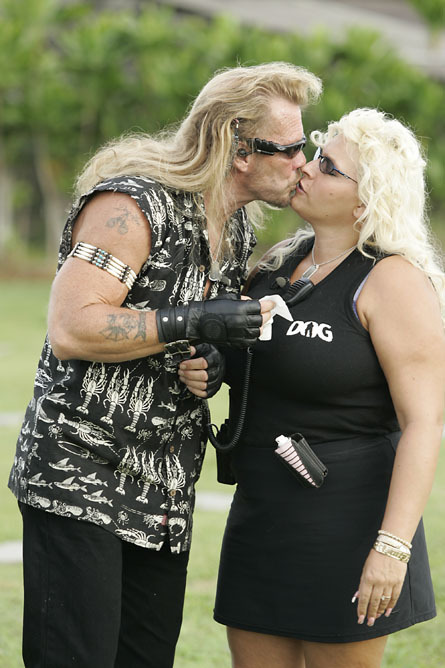 For Dog the Bounty Hunter, his departure from TV was a short one.
A&E dropped the star four months ago, ending the series that brought Duane "Dog" Chapman and his charming family's bounty hunting business into our homes. But CMT has snapped up the TV free agent, adding a new unscripted series, Dog, that sounds almost exactly like his old show. 
The network has ordered 10 hour-long episodes of the new show, which will follow Dog and wife Beth Chapman as they assist other small bail bond agencies that are dealing with hard times, due to bad legislation and poorly trained and executing bounty hunters.
The Chapman family will executive produce the show, in partnership with Electus and CMT. It is expected to begin filing in early 2013, for a late spring/early summer debut.
"This series is a game-changer for CMT," said Jayson Dinsmore, CMT executive VP development and programming, who apparently doesn't understand what game-changer means. "We were aggressive in our pursuit of a show featuring Dog and Beth, one of the most bankable teams in television history. We couldn't be happier to partner with Electus and Dog and Beth as they move forward on the next chapter."
Electus CEO Chris Grant said, "Dog and Beth are not only great television characters, they are the best bounty hunters in the world, and this show is a natural evolution of their life story. Electus is thrilled to be partnering with them and with CMT to deliver the next stage of Dog and Beth's adventure."
Are you going to follow Dog to CMT?