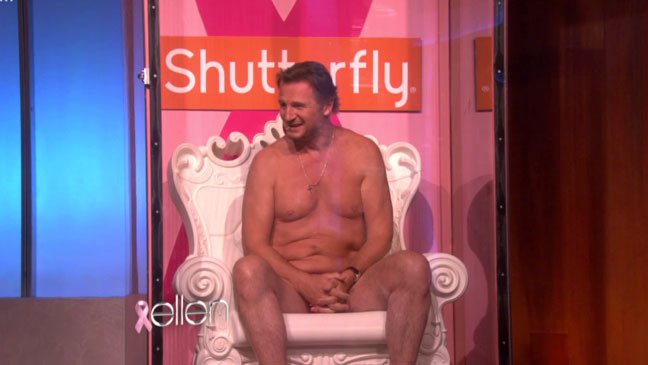 Liam Neeson is a much braver man than I am. I already knew he was a little more of a badass (it was close - 74 to 68 on the judges' scorecards), but today he upped his game.
Qui-Gon Jinn stripped down to little more than his lightsabre yesterday on The Ellen DeGeneres Show, in honor of Breast Cancer Awareness Month. Appearing at first in a fuzzy pink bathrobe, Liam agreed to sit in a dunk tank where an audience member would have the chance to douse him. The audience member was a breast cancer survivor who was thrilled when her name was called, rushing up to hug the movie star.
If she knocked Neeson in, Ellen would donate $10,000 to her charity. However, for Neeson that was not enough.
"If I take this off," he asked, indicating his robe, "Does the $10,000 become $20,000?"
The crowd roared its approval and he stripped down to, offering to take off his pink neon briefs as well.
"We get fined if you take those off," Ellen cracked. 
A man of his word, he stripped down and showed off his action-star figure.
"Oh my god, if someone's just tuning in, you look naked in there," Ellen said, as the audience roared with approval.