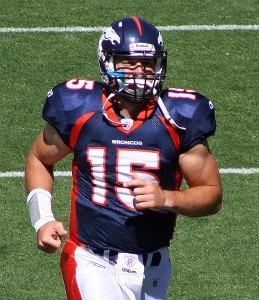 CBS news magazine "60 Minutes" had its highest ratings in three years and it's all thanks to Denver Broncos' quarterback Tim Tebow. On Sunday, the Denver Broncos faced the Pittsburgh Steelers in a Wild Card game for the NFL playoffs. The Wild Card game was the highest rated in 18 years because of the teams facing off. Tebow is the unstoppable wonder child, and everyone wanted to know if he could pull off a playoff win.
The game went into overtime, the first game to use the overtime rules in the NFL. With an 80 yard pass, Tebow and the Broncos won the game. Screams were heard around the country, even putting Twitter into a frenzy. According to news sources, Tebow's pass was more popular on the social network than even Bin Laden's death.
As the game went into overtime, it also cut into the next hour of television, so maybe "60 Minutes" won ratings because people didn't change the channel mid-show, or the stories were that intriguing following the game. Regardless, it's not just that the show had high ratings, it was high ratings with the demographics of 18-49 and 25-54. The last time these demographics tuned in in such high volumes was on Nov, 16, 2008 when an interview with the newly elected Barack Obama aired.
Sunday's episode included a variety of compelling and appalling stories. Even I could not turn it off when Scott Pelley conducted a hidden camera investigation of a doctor committing stem cell fraud or Lesley Stahl exploring the high demand of French truffles. It was heartwarming and interesting exploring the issue of five brothers fighting together in Afghanistan with Lara Logan reporting. If I'm being honest, I can't remember the last time I watched "60 Minutes."
Let's see if Tebow can do it again next week when the Broncos face off against the New England Patriots on CBS.