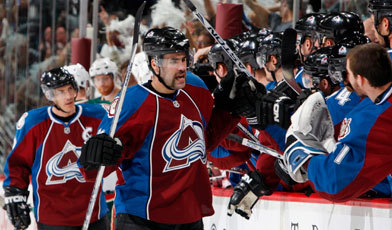 Over the course of the last few months, I have convinced myself that the greedy National Hockey League and I were heading for a divorce when the lockout finally ended. The more I read, the angrier I became at the owners (and players, to a lesser degree).
Now that the lockout is over, I am ashamed to admit that I have crumbled - I need my NHL fix! I am going to buy some tickets as soon as they go on sale, even with the only "professional" team near me being the lowly Columbus Blue Jackets.
For those who prefer to watch the game from the comfort of their homes, the NHL has released its broadcast schedule for the 2012-2013 season, with the NBC Sports Group scheduled to air 70 regular season games and the NHL Network adding 78 games. Alright!
NBC's first contest will see the defending Stanley Cup Champion Los Angeles Kings going head-to-head with the Chicago Blackhawks January 19.
For Canadian readers, the CBC will air 49 games, beginning with a triple-header this Saturday. 'Hockey Night in Canada' is back at full capacity – Don Cherry has to be doing cartwheels!
TSN will be airing 42 games, as well. Each game it airs will feature at least one Canadian hockey team.
The league will play a 48-game schedule, conducted over only 104 days. Will you be watching?