The rivalry between celebrity chefs Rachael Ray and Guy Fieri on Food Network's "Rachel vs. Guy: Celebrity Cook-Off" cooked up strong ratings for the cable network in its first season.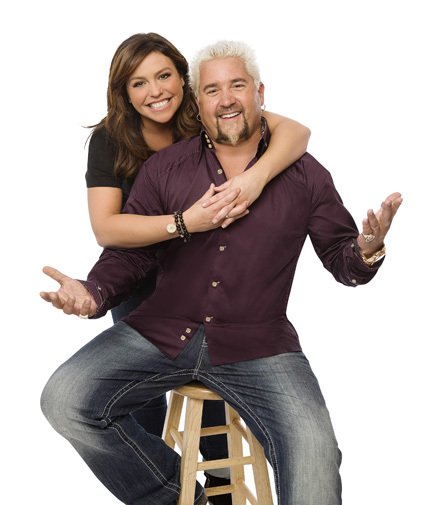 The second season, which premiered January 6th, finds the two at it again with this round's contestants including comedian Gilbert Gottfried, actress Kathy Najimy, NFL star Hines Ward, and singer Carnie Wilson, among others. In a recent interview with Zap2It, Ray hypes her friendly competition with fellow Food Network personality Fieri and the stakes (and steaks!) that go with it.
The celebrity chef and talk show host points to the return to the west coast for filming as a welcome reprieve from her hectic work life. "It was sort of fun to be in a totally different environment, extra-challenging and exciting for me being a total fish out of water," she said. "I get to California very rarely during the year, and we filmed all over the place there. I'd have to go back probably close to a decade for a season or a year where I spent that much time there."
Despite the competitive nature of the program, Ray says the benefits to the respective celebrity charities as win-win. "Guy and I are both very competitive people, but everybody's playing for charity... and seeing how hard everyone works, no matter whose team they're on, there's a certain amount of keeping it in perspective," Ray said. "You're excited for whoever the winner turns out to be, because they've truly earned it."
The rivalry itself with Fieri is all in good fun, much in the spirit of Ray's jovial daytime talk show. Ray explained, "We're a lot like brother and sister, so it's fun for us. It's like friends ribbing each other."
Don't miss things heat up on Sunday's "Rachael vs Guy: Celebrity Cook-Off" only on Food Network!