It's that time in the "Top Chef" season when the contestants get whittled down to the best of the best. Unfortunately for viewers, that usually means dispensing of some of the more colorful personalities on the show, and that happened this week as the delightfully cocky Stefan Richter was sent home. The chef spoke with Entertainment Weekly about the episode and what went wrong in his second stab at the "Top Chef" title.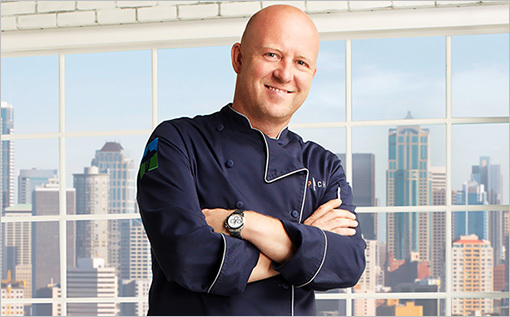 The challenge saw chefs forced to cook on a traveling cruise ship in cramped quarters and with limited tools at their disposal. Stefan's pork belly dish was criticized as being too dry and crispy, a criticism that Stefan blames on the working conditions. "I think the pork was fine. This is the recipe we used to use in Europe, my mom would put it in the oven and it's super crunchy. The problem is you cruse around in a cruise ship, you go up and down, you wait an hour, it sits for an hour, for another hour. It might have been a little dry — might be a little dry," he admitted.
Stefan is pulling for former co-worker Brooke to emerge victorious going into the finals of the tough competition. "Brooke is fantastic, and Brooke is a great chef. And Sheldon too — Sheldon is the calmest guy I've ever met in my entire life. He always makes fun of me for my OCD," he joked.
And what of the European chef's flirtatious relationship with fellow eliminated chef Kristen Kish? "We always talk to each other, probably text every couple of days and say hello and see how it's going. You know we're both still kind of in it, or we were until yesterday," Stefan said. "We're both in it, somehow, and she's a fantastic girl, obviously, great chef, beautiful, just fun to be around. We have some inside jokes, but you'll probably hear about them in the reunion show."
What did you think of last night's elimination? Did Stefan deserve to go home?