A local anchor's welcome to his new on air home was short-lived after his embarrassing flub went viral.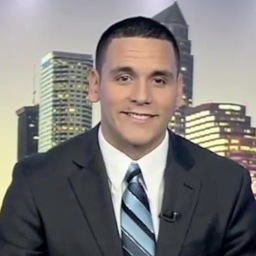 A.J. Clemente made his debut at the news anchor desk for NBC affiliate KFYR on Sunday evening, swearing under under his breath while unaware that his microphone and the broadcast were live. Co-anchor Van Tieu attempted to roll with the punches, introducing the new face to home viewers, but both Clemente and Tieu were visibly awkward and no doubt embarrassed by the flub.
The entire ordeal was, of course, caught on camera and quickly spread across social networking and news websites. The affiliate immediately suspended the new anchor in light of the gaffe and the colorful language (which rhymes with "clucking spit") they let go live on their station, and Clemente revealed on Monday that he and the station had parted ways. "Unfortunately KFYRTV has decided to let me go. Thank you to them and everyone in ND for the opportunity and everyone for the support," he tweeted.
He continued, joking and stating that he intended to keep a positive outlook despite the ordeal. "Rookie mistake. I'm a free agent. Cant help but laugh at myself and stay positive. Wish i didnt trip over my 'Freaking Shoes' out of the gate," he said.
Co-anchor Tieu apologized to viewers during the 10pm news broadcast Sunday night. "We were caught off guard and [Clemente] didn't realize his microphone was on," she said. "And while that was no excuse -- we do train our reporters to always assume that any microphone is live at any time -- unfortunately, we cannot take back what was said. But, we do apologize and hope that you may forgive us and rest assured, that something like this will not happen again."
Check out the flub in all its glory below: