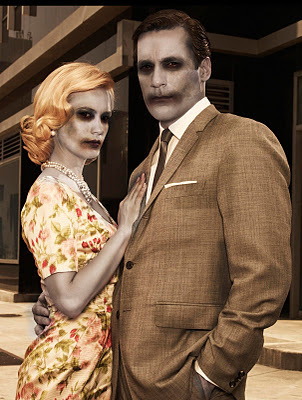 Towards the end of The Walking Dead's second season AMC began running spots for Mad Men that pretty straightforwardly tried to migrate the Zombie fans to the critically lauded period series showing tired Mad Men characters and dubbing them zombies, and closing with the statement "These guys Drink Like Hershel Used to!"  It's comedic for sure, until you consider that the hard fought battle between AMC and Mad Men show runner Watthew Weiner over renewing with AMC ended with a ridiculous payout that likely led to Walking Dead budget cuts, a fact that has drawn Weiner public scorn from numerous business pundits as well as fellow showrunners like Kurt Sutter (Sons of Anarchy).  During the negotiations, AMC put various creative changes on the table including limiting the air time of episodes by 2-minutes, and allegedly demanding the death of two major characters.  For Weiner's end, the plan included a juicy $30 Million Dollar pay day for three seasons of work.  The negotiations wound up delaying Season 5 of Mad Men, which premieres tomorrow, and Weiner has admitted via Huffington Post and others that he actually quit the show during the negotiations.   For all of the scandal and money that went into retaining Mad Men you'd think the show was AMC's cash cow;  you'd be wrong.
In fact, despite being a dominating force at the Emmy Awards since first airing, Mad Men falls well below The Walking Dead's ratings figures.  The Walking Dead's series high being 9 Million viewers vs Mad Men's 2.9 Million.  Perhaps adding insult to injury, the after-show talk piece "The Talking Dead" actually peaked at 4.2 Million, also besting any original episode of Mad Men with a production budget that is likely will in the low two digit percentile compared to Mad Men. 
With a relatively small slate of original programming, AMC can certainly afford to choose to have a balance of critical acclaim (Mad Men) and number-mongering (The Walking Dead).  But it seems pretty clear that when it comes time to negotiate again, we can likely expect more Dead, and less Men.