Last month, TV Rage showed you the first trailer for Starz' upcoming pirate drama Black Sails, which is being billed as a prequel of sorts to the famous story Treasure Island. Michael Bay is involved with the series, so you can be sure it will be very subtle and understated in its delivery.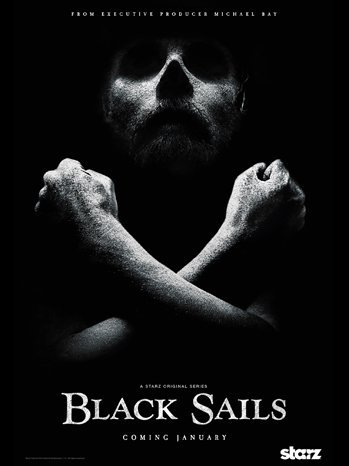 Black Sails features Toby Stephens as Captain Flint, who commands men about 20 years before the events of Robert Louis Stevenson's Treasure Island. Flint is the most feared pirate on the Seven Seas and a hero in this tale. Flint and his crew travel to New Providence Island and fight for their very lives. and his crew as they seek sanctuary at the pirate paradise New Providence Island, where they must fight for survival among a brutal population of villainy.
Starz has revealed the first poster for the show (look right), as well as two new trailers which can be seen here.
Bay is producing the program, while Jon Steinberg (Jericho) serves as the showrunner. Robert Levine is a co-executive producer.
Eight episodes have been ordered for the first season and production is underway in Cape Town, South Africa.
Zach McGowan, Like Arnold, Hannah New, Jessica Parker Kennedy and Clara Paget co-star.