Here's some news Supernatural fans have been waiting for:  Misha Collins will be returning in season 7.  If you are guessing that Castiel will return in time to bring Bobby (Jim Beaver) back from the dead, though, I'm afraid he's not due to appear that soon.  In a hastily issued press release, Supernatural publicists confirmed that Collins would appear in episode 17 of season 6, as well as two other episodes.  Here's what they had to say:
 "You have all asked about this on such a frequent basis, that the only way to be fair is to alert you all in one mass email, so please be advised that Misha Collins will be returning to "Supernatural" as a guest star in Episode 717and will also appear in at least two additional episodes.  Please note that there's really nothing else that we are able to add about these specific episodes or the details of his return at this time."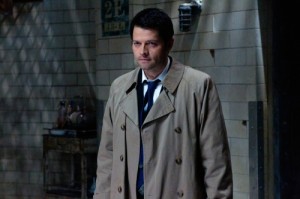 The keyword here is that he is returning as a Guest Star to Supernatural, and not a series regular. If you remember, the last time we saw Castiel he was not exactly himself.  At first he was going all 'old testament' on as as the the new God going on a smiting spree that only Charles Manson could have loved, until he discovered the souls of the Leviathan's were poisoning his soul stew and  rotting his meat suit away.  The last we saw of him was his trademark overcoat floating in a lake.
The news of Collin's return should be reassuring for Bobby Singer fans, who are currently trying to figure out if Supernatural has killed their beloved character off or not.  Castiel did bring Bobby back from the dead once already, after he himself was resurrected by God in the season 5 finale.  Yes, it seems everyone on Supernatural has died at least once at this point.
Will Collin's return as Castiel of old?  Will he even be Castiel at all?  Should Bobby Singer be brought back from the dead?  Sound off.