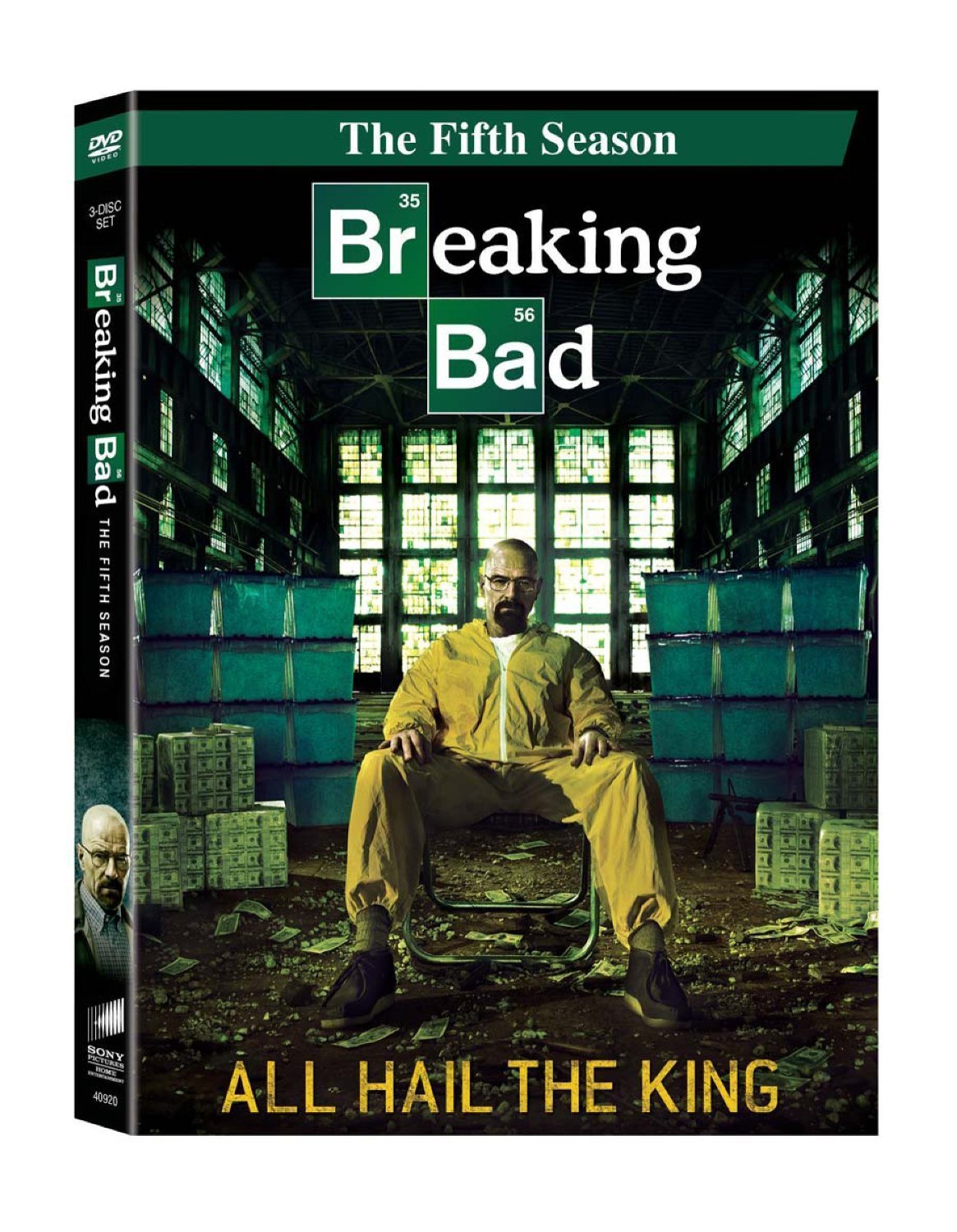 AMC's 'Breaking Bad' is undeniably one of the finest dramas to ever air on television, and as we inch ever closer to its endgame -- the final eight episodes begin airing August 11 -- it's becoming more and more essential to be caught up, if only for your own continued cultural relevance (there's no way this show's ending won't be massive).
So, for 'Bad' neophytes looking to get caught up, 'Breaking Bad: The Fifth Season' is already an incredibly essential box set. But what about seasoned 'Bad' fans? Are these DVDs worth buying?
Though collectors might be confused by the decision to title the set "The Fifth Season" as opposed to "Season 5, Part I" or something similar (season 5, after all, isn't over yet), this is by no means a barebones set. There are plenty of fantastic special features here for rabid fans to sink their teeth (or gums, depending on their affinity for Heisenberg's wares) into. 
But first, the episodes themselves! All eight episodes of Breaking Bad that aired in 2012 are here, and they hold up quite well. "Live Free or Die" still provides us with the still unsolved tension of its opening flashforward, while there's nothing quite like the macabre humor of that suicide from the first scene of "Madrigal."
"Fifty-One" remains a devastatingly quiet episode, while "Dead Freight," despite whatever problems you might have suspending disbelief, is still a giddy mini-heist film, right up to that stomach-churning final scene. And the final two episodes of the season -- "Say My Name" and "Gliding Over All" -- are some of the show's most intensely plotted episodes (that "Crystal Blue Persuasion" montage remains one of the most technically astounding things the show has pulled off). Oh, and all these episodes come in their uncensored form, meaning you can delight in the season's multiple uses of pay-cable profanity.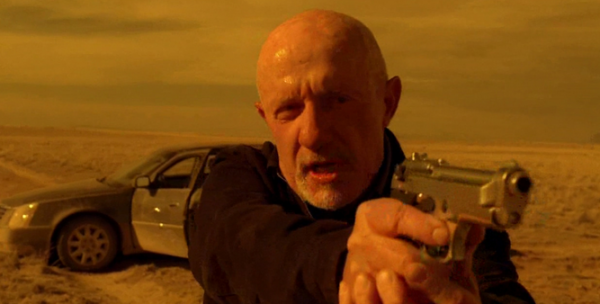 These are all dark, brooding episodes -- 'Breaking Bad' is a dark, brooding series -- but the series can almost become a comedy if you turn on the commentary tracks on the DVD, which are present for every episode. They're mildly informative in the way that most commentary tracks are; if you're interested in the technicalities of shooting scenes on a windy day in the desert, you won't be disappointed. But the real fun comes from the interactions between the cast members. The commentary track for "Say My Name," for instance, reveals a hilarious rivalry between star Jonathan Banks (Mike Ehrmantraut) and writer/director Thomas Schnauz.
"My neighbor works on 'Parks & Recreation', which Jonathan just had a great spot on," Schanuz says in the commentary.  "And said to me, 'I'm working with Jonathan Banks!' And I was like, 'Oh Jonathan's such a sweetheart! I love Jonathan, he's great.' My neighbor goes, 'Yeah, he told me to punch you in the heart.'" I think this should prove that Jonathan Banks is every bit as fantastically violent as Mike Ehrmantraut.
Another special feature is a scene, "Chicks 'n' Guns," created entirely for the DVD. It's a scene which fills in some of Jesse's blanks in "Gliding Over All." How did he get that gun? Why was he so afraid of Walt? (Oh, by the way, it's a totally NSFW scene, featuring -- to my knowledge -- the only bare breasts seen in the 'Breaking Bad' universe). It's also a fantastically written and acted scene, with Aaron Paul and Bob Odenkirk delivering typically high-caliber performances.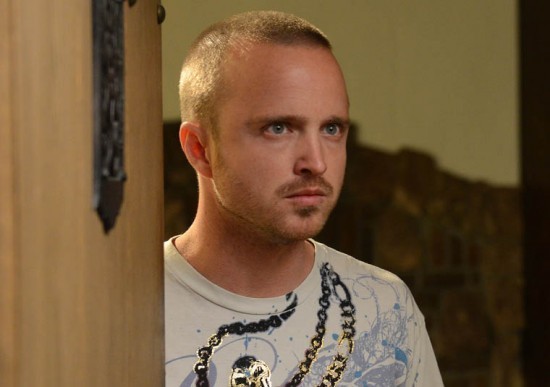 There's a fantastic featurette on the character of Mike, a cool look inside the writers' room with Vince Gilligan, some less bloody stunt rehearsals of the prison massacre sequence -- and, somehow, Chris Hardwick worms his way into a special feature with "Chris Hardwick's All-Star Celebrity Bowling," reminding us that, damn it, we're going to have to deal with 'Talking Bad' this fall.
Overall, despite what its title might indicate, this set isn't one that was haphazardly thrown together as a promotional tool for the final stretch of episodes. The special features will be beneficial to both new and returning viewers -- but, of course, it's those eight brilliant episodes that will get you most excited for that final stretch of episodes.
You can get 'Breaking Bad: The Fifth Season' on DVD over at Amazon.

'Breaking Bad' will return for its final eight episodes on August 11.