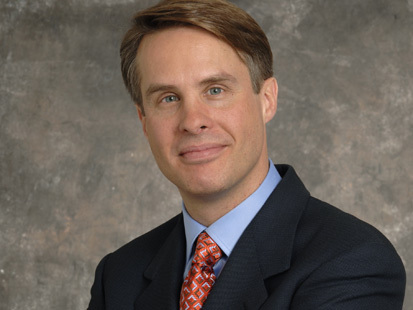 ABC has announced some significant changes that are in the works for its long-running late-night news program 'Nightline.'
Terry Moran, a longtime correspondent and current co-anchor of 'Nightline', has been named as the ABC News chief foreign correspondent and will be relocating to London.
Ben Sherwood, ABC News president, praised Moran's range as a reporter in making the announcement. 
"He is equally adept interviewing a confessed hit man in one of Mexico's most notorious gangs as he is breaking down some of the most complex Supreme Court decisions," Sherwood said.
Moran begins his new assignment later this summer. He initially joined ABC News in 1997 following his work covering the double murder trial of Lyle and Erik Menendez for CourtTV. He also spent some time as a White House correspondent for ABC News.
"International reporting has long been a hallmark of ABC News and a part of (late ABC News anchor) Peter Jennings' legacy here," Sherwood added. "I look forward to Terry taking his signature voice to all corners of the globe for ABC News."
With this move, he becomes one of the most high-profile foreign correspondents in London. Foreign bureaus have been the victim of downsizing in recent years, but this move is expected to give ABC some strong footing in reporting European news, as well as that of the Middle East.
Dan Abrams, who works on ABC News as a legal analyst, will be "replacing" Moran on 'Nightline,' with the new title of ABC News chief legal affairs anchor. With this move, he will be cutting back on his company Abrams Media.
If you are unfamiliar with Moran, here is video of him interviewing Michael Moore.
Any thoughts on these moves?