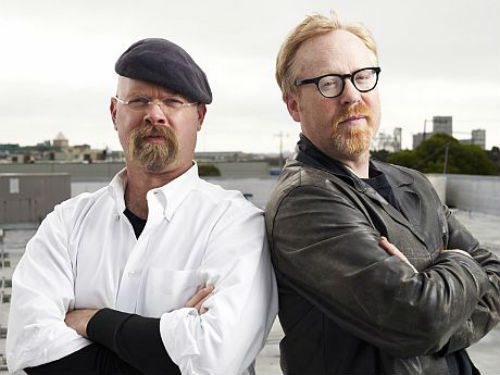 If you're a fan of 'Mythbusters' and 'Breaking Bad,' then you're going to be excited for this trailer.
It looks like the Discovery Channel show will take on the hit AMC series in an upcoming episode! How exciting is that? Who doesn't want to know if crazy 'Breaking Bad' occurrences can really happen?
For those who don't know, 'Mythbusters' features special effects experts Adam Savage and Jamie Hyneman, who test all kinds of theories and occurrences. They use scientific methods to test the validity of myths, rumors, movie and TV scenes, Internet videos, news stories and so on.
Not only will Savage and Hyneman show off their testing abilities, but they will have help from 'Breaking Bad' creator Vince Gilligan and star Aaron Paul, to see if you can really dissolve a body with hydrofluoric acid or if crystals can be used to blow up a room.
Who is excited for what sounds to be an amazing episode?
Check out the trailer here, which recently debuted at the 'Mythbusters' Comic-Con panel.
The special 'Mythbusters' episode is slated to air Monday, August 12 at 10 p.m. EST. If you were on 'Mythbusters,' what scene would you want to test from 'Breaking Bad'?