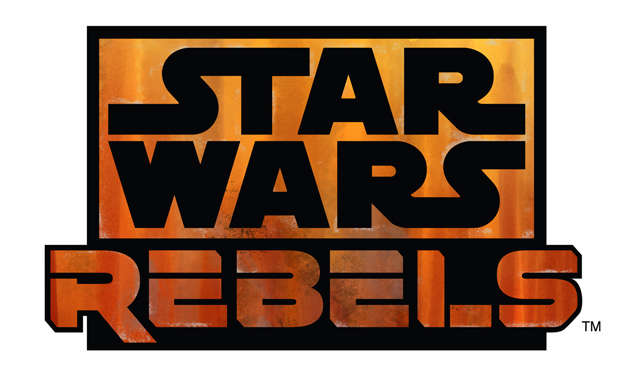 Now that's a nice-lookin' logo, right there. 
The first photos and concept art images from Disney's upcoming 'Star Wars Rebels' were revealed today at Star Wars Celebration Europe in Messe Essen, Germany. Executive Producer Dave Filoni pulled back the curtain on Lucasfilm's upcoming animated series, delighting audiences with the news and assurance that 'Star Wars Rebels' has been designed with original 'Star Wars' concept artist Ralph McQuarrie's work in mind. McQuarrie's classic art has guided the look and feel of 'Star Wars Rebels,' including the logo, which is color-coded to match the rebel pilots from the original trilogy of feature films. 
Filoni assured fans that 'Star Wars Rebels' will feature all of the landscapes, planets and ships that fans love from the feature film franchise. Fans also received the very first image of the Ghost (pictured below), the main ship which the bulk of the series will focus on. The Ghost is the main character's ship, however the main character has yet to be revealed.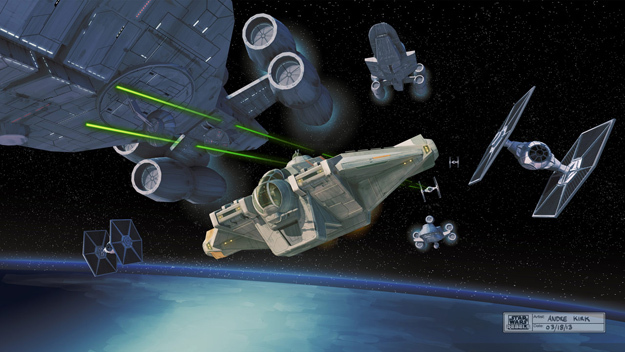 'Star Wars Rebels' takes place in the formative years between 'Star Wars Episode III: Revenge of the Sith' and 'Star Wars Episode IV: A New Hope.' The rise of the rebel alliance (which a young Luke Skywalker will eventually aspire to join) takes place in this important timeframe. This two-decade era has never before been explored in television and film, with a select few 'Star Wars' video games and comic book series being the only to delve into this section of story. 
'Star Wars Rebels' is scheduled to premiere in fall 2014 as a one-hour special telecast on Disney Channel, and will be followed by a series on Disney XD channels around the world.
This news follows other good news for 'Star Wars' fans: a boxed set of the complete series of 'Star Wars: The Clone Wars' has been announced. The Season 5 Blu-ray and a complete box set of the entire series which will both hit stores on October 15th. 'Star Wars: The Clone Wars' is an Emmy Award winning series which was set between the events of 'Star Wars Episode I: The Phantom Menace' and 'Star Wars Episode III: Revenge of the Sith' (with the second Episode, 'Attack of the Clones' factoring in concurrently). 
Here is a trailer for the upcoming Fifth Season BluRay of 'Star Wars: The Clone Wars:'