There is a brand new war brewing. 'The Haves and the Have Nots' is pitting family member against family member, and it's quickly climbing the charts. Not only has it reached phenomenal success on the Oprah Winfrey Network (OWN), but it's also garnered enough attention to warrant another 16 episodes ordered for its first season.
When Benny (Tyler Lepley) borrows his sister Candace's car (Tika Sumpter), he lands in much more than he bargained for. With trumped up charges that don't belong to him, and that really don't belong to her, it's time to enter the father. Tony was someone Benny only knew from church. But before too long, the truth is out. Tony's bond goes deeper. Patrick Faucette has one of those faces you know you've seen before, but you may not be able to place. The basis is that you've seen him quite a few places from '90210' to 'Heroes' to 'The Office.' Recently, I got the chance to sit down with him and discuss the quickly increasing role of Tony on 'The Haves and the Have Nots.'
TVRage: You're a licensed physical therapist from what I understand. What made you decide to pursue acting instead?
Patrick Faucette: I was more of a musician first. I grew up playing the bass guitar. When I went to college I majored in physical therapy and I also played football. After I graduated, I moved with some friends to San Francisco and they were in a theatre program. They started doing plays and I would go see them perform. They finally convinced me to do a play. After that, I started taking acting classes and doing theatre and that's when the acting bug bit me.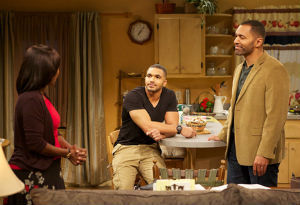 TVRage: As 'The Haves and the Have Nots' winds down, we've gotten to see that while he's [Tony] just not coming to light for us, he's been watching from afar for a while. If he's been so close this whole time, why do you think he kept his distance?
Faucette: Well he was married. That kind of kept him away. Now that his wife has recently passed away and Benny set Hanna up with a random guy from church who just happened to be Tony, it opened the doors.
TVRage: Blood relation can make us let things go that we would normally sever. Tony is watching his child go through hell because of Candace, Benny's sister. Do you think Tony will see a line where he has to say, Okay… enough is enough. Time to cut some ties?
Faucette: I'm sure that Tony will. He seems like he's a down to earth character. He'll see it whereas Benny, as the brother, doesn't see the ulterior motive. Tony will say, "Look at the pattern."
TVRage: You've mentioned that Tyler Perry originally had your character set for one episode. Congratulations on that being extended. This means that Hanna and Tony are going to have to work together for the sake of their kids. Communication doesn't seem to be their strong point, so how do you think they are going to be able to accomplish this, if at all?
Faucette: He's going to have to be persistent to be part of his life. Yesterday's [August 20] episode has Tony going to see Benny in jail. Benny knows he's there to help him, even though Hanna didn't want him to tell Benny that he's his father. So yeah, I think persistence all around is going to be the key. Maybe in the next sixteen episodes they'll be able to work together.
TVRage: Yes! Not only did your character get extended, but the show has been requested for more episodes! As this first season starts to wrap up, what can we expect from the family dynamic with Tony, Benny, Hanna, and even though she isn't his, Candace?
Faucette: I see Tony trying to get back into the family. There may be some heated talks as well between Tony and Candace. As Benny's parent, Tony has to look out for his son.
TVRage: Also, there are the Cryers involved. Even if they didn't start out being connected in this situation, they are now. As they are responsible for landing him in jail, as clearly as Candace is. Do you see Tony going to task with them, specifically Mr. Cryer?
Faucette: There is a possibility of that. As Tony gets more involved in what goes on in the family, and Tony's relationship with Hanna deepens. Hanna still works in that house, so that's going to be an issue.
You can follow Mr. Faucette on Twitter, and of course you can catch him as Tony, every Tuesday night 9/8c on OWN.
*Interview by Erica Bedow*