On Oct. 14, 2013, Discovery Channel will air 'True Evel,' a special documentary broadcast about the life of world-famous daredevil, painter and entertainer Evel Knievel. Knievel's life was mired in controversy, death-defying and excitement; and it seems that Discovery is enjoying the daredevil business, after 13,000,000+ viewers tuned in to watch Nik Wallenda cross the Grand Canyon back in June. The one-hour special 'True Evel' will use archival footage and interviews with family, friends and colleagues to document his rise from small-town fairs to sold-out stadiums and infamous jumps.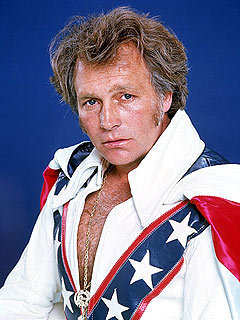 Born in Butte, Montana, Knievel wanted to be a daredevil from a very early age, having seen the travelling Joie Chitwood Thrill Show in the 1940s. But there wasn't any promise of money in the daredevil business, so along the way Knievel was a salesman, a hunting guide, and even the owner of a hockey team--but he continued to practice his stunts all the while. By 1966, Knievel had set up his own travelling daredevil show, where he would risk life and limb to entertain the gathered crowd. 
In 1967, Knievel gained international notoriety by jumping the fountains in front of Caesar's Palace in Las Vegas. Ever the showman, Knievel used his own money to finance a video broadcast of the elaborate stunt. Unfortunately, Knievel's jump was unsuccessful and the resulting crash left him with a shattered pelvis and broken femur. How did he ever bounce back from such a calamity? You'll have to tune in to Discovery Channel on Oct. 14 to find out. 
Knievel's life wasn't all stunts and showmanship; several run-ins with the law peppered his entertainment career. The documentary will undoubedly cover these rougher notes of the Knievel story, as well. Back in 2010, an exhibit entitled 'True Evel,' like the documentary special, was opened at the Harley-Davidson Museum in Milwaukee, Wisconson. 
'True Evel' airs on Discovery Channel on Oct. 14, 2013.