Twitter can make anything happen, and with that said, it looks like there's a good possibility that some of the stars of the hit A&E reality series 'Duck Dynasty' just might appear on The CW's 'Supernatural.'
It all started yesterday when a 'Supernatural' and 'Duck Dynasty' fan, Amanda Leasher, tweeted, [email protected] should make a guest appearance on an ep. of @SPN_updates that'd be so awesome @JessicaDuckWife @realGpad @jarpad."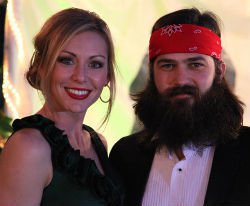 The tweet opened the floodgates, and Jessica Robertson, who's married to 'Duck Dynasty's Jep Robertson, responded by saying, "Jep & I would!!!"
Then, Jared Padalecki, who plays Sam Winchester on 'Supernatural,' tweeted excitedly, "we'd love that! But only if we could come and do y'all's show :)"

The social media conversation didn't stop there, as Padalecki's wife, Genevieve, also tweeted her enthusiasm, "this made our day!!! @jarpad can grow his beard! Y'all can be hunters!"
So, what do you think? Should 'Duck Dynasty' and 'Supernatural' do some type of "crossover" episode and star on each other's shows?
We all know Padalecki and Jensen Ackles can pull off beards splendidly, so the two would probably fit in with the 'Duck Dynasty' crew, who also look like they could be kickass supernatural hunters. 'Supernatural' is known for pulling off some crazy episodes, so it wouldn't be totally out of the box for some Duck Commanders to guest-star.
If the "crossover" would happen, would you tune in? How do you think it would play out? If it happens, everyone should send their gratitude and thanks to Leasher, who started the idea and Twitter conversation.
'Supernatural' Season 9 premieres next Tuesday at 9/8c on The CW.