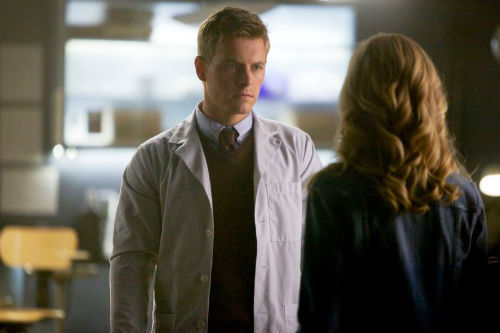 Hello, and welcome, to our suck-ulent weekly feature surrounding one of our favorite vamp-tastic shows: 'The Vampire Diaries'! We can't get enough of vampire shows involving insanely attractive people, and can you really blame us?
So, if you're a 'TVD' fan and are obsessed with the bloody good show, then be sure to join us weekly, where we'll not only provide a roundup of every episode, but also break down what each Mystic Falls character is up to that week. Like, why can't Jeremy be shirtless in every episode? Or, are all vampires/werewolves/hybrids/witches beautiful creatures?
Sit back, relax, and get your vervaine and blood bags ready for our weekly 'TVD' installment. Warning: spoilers follow, so if you have yet to tune into this week's episode, "Handle with Care," get running like a vampire's hunting you.
Elena:
-Anyone else find it just a tad satisfying when Elena wasn't allowed to join the Only Boys Allowed club to find the anchor? Her doe eyes had very little effect on Silas, which made for a nice little change up, I gotta say.
-Elena was clearly jealous of the thought of Tessa and Stefan spending the night together. Does this mean she still has feelings for him or just doesn't like not being the center of attention? Girl needs to pick a man and stick with it.
-With Amara currently in the picture, Nina Dobrev now has to play three different characters, which sounds equal parts impressive and exhausting. (Sidenote: I feel like Elena should start watching the show 'Orphan Black.' She would really be able to relate to the whole cloning thing.)
Damon:
-This had to be one of the greatest episodes, and a huge thanks goes out to Damon referencing Snooki and Pocahontas all within the span of five minutes.
-Talk about Damon being pressured. From trying to resurrect Bonnie to trying to kill Silas to trying to save Elena to trying to find the anchor, Damon had a lot on his plate this week.
-Damon summed up the episode for me in one word: "Crazy Pants." Do you think Damon can handle Elena, Katherine and Amara?
Stefan:
-He's had a rough go of it this season, but being trapped in a cabin with two very attractive women doesn't sound like the worst thing in the world.
-As I've mentioned before, I'm a huge Delena fan. HOWEVER, I did find it incredibly sweet that even without his memories, Stefan's first instinct is still to protect Elena. Alright, Paul Wesley, you can still make me swoon.
-Thanks to Tessa, Stefan was just given a crash course of all of his memories, which looked extremely painful on both an emotional and physical level. Does this mean the old Stefan is back or has his temporary bout of amnesia given him a new outlook on life? Either way, at least he'll remember where he goes to buy his conditioner. (That hair!)
Jeremy:
-Raise your hand if you like to see Jeremy handle a crossbow. He makes one fine hunter.
-A road trip with Jeremy, Silas and Damon? I wish I could have been in the backseat with Jeremy, especially when he called Silas a "d***."
-I love when Jeremy gets all emotional and uplifting, like when he told Bonnie to have faith. Do you think these two lovebirds will ever be reunited?
Bonnie:
-Even though she only pops up here and there, Bonnie still gets to deliver some great lines, including, "What did that crate do to you?"
-If you're wondering, Bonnie is still dead. Bonnie seems to think she should just accept her death, but she'll come back to life soon…right?
-Out of every character and couple, Bonnie and Jeremy seem to say the sweetest things to one another. For example, "I'd die a hundred times over just to have you standing here alive in front of me." Talk about gut-wrenching.
Caroline:
-There wasn't as much Caroline as I typically like, but she is going through a really rough break-up at the moment. (We'd all be sad if our sexy were-vamp went off to New Orleans without us.) So she's totally excused for "having a moment," which almost resulted in Dr. Maxfield bleeding to death. The girl is emotionally distraught (you've all seen her ex's abs, right?) Let's cut her some slack!
-Major kudos to Caroline almost immediately knowing that Katherine was not Elena. Doppelganger recognition: the true test of any friendship.
-The fact that she's teaming up with Katherine for a little crash course in Villainy 101 may be the greatest thing ever. (Let's not forget that Katherine was the one who made Caroline into a vampire in the first place.) And thanks to their teamwork, now we at least know a little about this Augustine vampire, which we can all assume isn't just the college's mascot (though that would be both hilarious and awesome).
Katherine:
-Katherine may have survived Silas draining her of the cure, but there is something seriously wrong with our favorite former vamp. The development of gray hair and loss of teeth isn't a good look for anyone...though if somebody could pull it off it would be this chick. (Perhaps she's turning into Rogue and this is the start of an 'X-Men' crossover?) But seriously guys, I'm worried what this will end up meaning.
-It took Katherine all of two seconds to double cross Caroline and turn to Dr. Maxfield for help in order to save her own skin. At least she's consistent with her selfishness (and let's just admit it, we wouldn't want her any other way).
-Her "sandwich police" line was awesome — as was her badass interrogation techniques.
Silas:
-If this wasn't your favorite Silas episode, then there's something wrong with you. Not only did he deliver the best one liners and tell the raddest knock-knock joke, but he also said the following: "frenemies," "Supernatural Madonna," "girlfriend's bestie," "pinky swear," and "I finally get to die today." This pretty much sums up the entire episode for me.
-Not only did Silas lead Jeremy and Damon to the anchor (which turned out to be his one true love Amara), but he also made a good point that the universe is mirroring his love for Amara. Do you think Elena is meant to be with Stefan?
-So, Silas is MIA...again. I guess we'll have to wait a little longer for him to resurrect Bonnie.
Qetsiyah/Tessa:
-In my opinion, Tessa is the baddest witch in town (sorry, Bonnie!) No offense to Elena fans, but I truly loved her messing with Elena and her "feelings" for Stefan. She is one witch who can get under anyone's skin…and mind, like she does so well with Stefan.
-Like her love "Silas," Tessa also delivers some badass one liners, like "Get up gorgeous! Your doppelganger dies today!"
-She is one mean 2,000-year-old witch. After all, she did make Amara the anchor knowing Silas wouldn't kill her to destroy the other side. Talk about a woman scorned.
-I have a feeling Tessa's going to hold it over Stefan's head (for awhile) that she rescued him. As we all know, she isn't very good at letting go of grudges and getting over past loves.
Be sure to come back next week for another installment of 'Weekly Fang Girls,' and definitely don't miss 'The Vampire Diaries' every Thursday at 8/7c on The CW.

-Written by Allyson Koerner (Damon, Jeremy, Bonnie, Silas, Qetsiyah/Tessa) and Kelly Schremph (Elena, Stefan, Caroline, Katherine)