In nearly a decade living in Los Angeles, trying hard to find success on camera, Yara Martinez at long last got a pilot picked up. The Cuban actress who was born in Puerto Rico, raised in Miami, and spent time in New York City waiting tables before heading to the west coast, has appeared in eight pilots in her eight years.
None of those pilots got the greenlight, until now. Martinez is part of an impressive cast on Amazon's new, and well, first, original scripted series. The political comedy 'Alpha House,' is written by 'Doonesbury' creator Garry Trudeau, and stars John Goodman as one of a quartet of Republican Senators who live together in Washington, D.C.
Based on a real-life circumstance that four Democrats embraced years ago, 'Alpha House' was one of many pilots commissioned by Amazon, but was the one that earned the most votes from fans, and subsequently made into a series. Martinez plays the wealthy and beautiful Adriana de Portago, a partner of sorts to one of the four Congressmen, Senator Andy Guzman (Mark Consuelos). The series also stars Clark Johnson, Matt Malloy, Amy Sedaris, Wanda Sykes, and also saw a cameo by Bill Murray.
While running errands on a sunny Los Angeles morning, Martinez spoke on the phone about the Amazon experience, fleshing out her character, and what it's like to be surrounded by brilliant political minds and talented actors.
TVRage: Is it safe to say, or fair to say, this is the biggest and most high profile opportunity you've had?
Yara Martinez: It is safe to say. I've been in L.A. for eight years, and in eight pilots, it's the first one that's gotten picked up. This is also the first time I've been in with a show from the genesis to see it distributed and do all the press, so yeah, that's safe to say.
TVRage: Can you tell me about the audition process, and if because this is an Amazon production, was it in any way different?
Martinez: It was different than most pilots that I've auditioned for. They were casting out of New York, so I sent a video from L.A., and took a while to hear from them -- I think they were waiting to get John (Goodman) --  but once I heard from them, the director Adam [Bernstein] called me and gave me a few notes to adjust.
Then they had me go to a casting director here to put myself on tape and said someone from Amazon was going to be there. I'm so used to seeing 20 or 30 suits with networks, so this was very relaxed. There was one person there, I got some notes, sent out a tape, and then I got the part. It was just me that was there; usually when your auditioning for a pilot, you're waiting with four other people and then you go in and there are 20 suits just analyzing your every move.
This was very more relaxed, and it felt easier. Definitely different.
TVRage: So this is Amazon's first foray into streaming scripted content, and they are riding a wave of popularity following Netflix. In what ways was the production process different?
Martinez: As far as production quality, there wasn't any difference, it was great. As far as the creative process goes, there was a smaller unit of people, so it allowed for a lot more artistic liberty. [Creator] Garry [Trudeau] was always on set, so if I ever had any questions, anything I wanted to add or change, I was able to talk to Garry directly and get an answer. He would just talk to one person as opposed to having to contact the network and then have them contact someone else. It just allowed for a lot more breathing room for the writers and actors to play, so as far as artistic liberty, I felt there was a lot more, and it allowed for a wonderful environment to work in and feel safe in.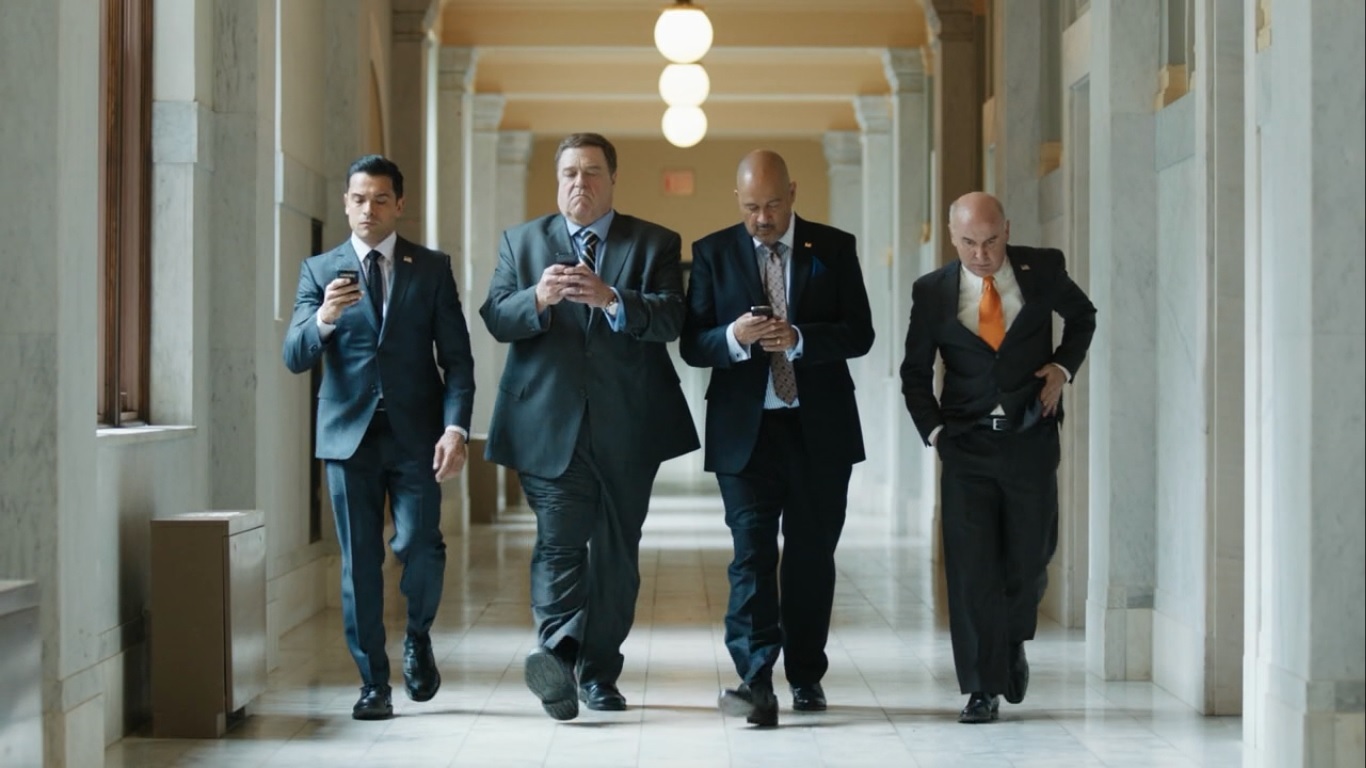 TVRage: How was 'Alpha House' written and filmed? Was it episodic or done more as a whole?
Martinez: We got the scripts a week or two in advance; it's a luxury you definitely don't have filming in TV, though towards the end we got them before the table read. The scripts were spread out; I didn't know the entire arc of my character before the end.
[Amazon] did eight pilots, they released them to the public, and they got to vote. That's definitely different than a network show, so that was something else different for me. I usually don't see my pilot. Usually I get it through my writer or director to see it, but Amazon released it. Once it was chosen, we got 11 episodes. I finally got picked up! Especially since I've been here eight years, it's been a lot.
TVRage: What can you tell us about your character? She initially seems opportunistic and empowered.
Martinez: She is really smart, but she also has good intentions. I don't thinks she is manipulative, for her she always has, or at least I see her this way, that she has always had power and comes from money. It's a sense of entitlement she doesn't see as entitlement, it's just how things are. Of course if I'm going to sit next to a really powerful senator, why wouldn't I protect my own interests, as opposed to scheming?
I think it's fun to play: she's powerful, she's rich, she's a hedonist, she enjoys life, she really just wants to have fun. It was really fun to play that and go that way.
TVRage: I read that you're a former political junkie, how did that interest play into the show?
Martinez: Honestly, not that much. Everyone else on this show is a political junkie – they take being a political junkie to another level (laughs). When people start talking about politics, I just shut up and listen, I can't keep up. I just look at Mark [Consuelos] and say "I'm so stupid, I don't know anything."
I don't know all the senators and every single person, I know my representatives, and I try to be an informed citizen, but it was kind of hysterical to be at the cast dinner once everyone started talking politics. I was like, "umm, okay, alright, I'm just going to listen now." Which is great, you learn. It's great to be around people who are so well-rounded and know what they're talking about.
TVRage: Is there a person or persons after whom your character is modeled?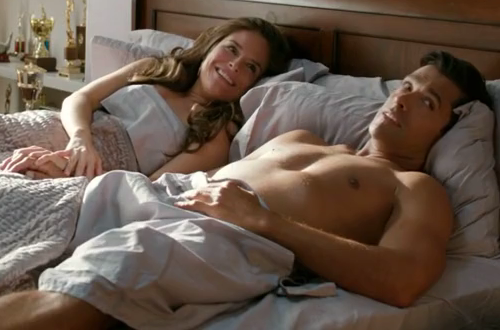 Martinez: There isn't. Myself, Garry and [Clark] Johnson (Senator Robert Bettencourt), we were trying to think of a Cuban heiress who puts together a Republican Super PAC.  She was more an amalgamation of a bunch of people I grew up with in Miami, and combined with Garry's writings, she became what she is, a fictional character.
Mark's character is inspired by [Florida Senator] Marco Rubio and some of the other senators. Not her though, she is kind of her own thing. We were trying to figure out; it was a nice little dance.
TVRage: So you're surrounded by some impressive political minds, but also some impressive and talented actors. What did you glean off them, what did you learn?
Martinez: There were two things. John [Goodman] was interesting to watch work. He stays very relaxed, he takes time to stay relaxed. You see what choices he makes, and how he protects those choices by having the same intention with every take, but changing he levels. I still do something different every time, but then sometimes when you see the final performance, they don't choose the take you like. It was interesting to see John work that way and still be so pleasant and organic through every take.
Something else that was really comforting for me was working with Matt [Malloy] (Senator Louis Laffer, Jr.), who was hysterical throughout. There was one day, I just said, "I feel like I don't know what I'm doing, it's just horrible. I go home and think of a thousand other things I wish I would have done for the scene." He is like, "I still feel like I have no idea what I'm doing. I have the same problem at night when I'm sleeping, and I'll wake up and say, 'Oh my god, I should have done that.'" It's really comforting for me that someone of his caliber with his impressive body of work feels the same way.
Just watching everyone else, it comes down to having fun. It's different for me, because I'm used to doing dramatic parts, when I'm in the zone and everything is clicking. Doing comedy I felt very different, it was nice to hear Matt say he feels the same way.
TVRage: You also have a great cast of female comedians as well.
Martinez: Oh my god, I can't even get over it! Wanda Sykes, Amy Sedaris…I have such a girl crush on Amy, and it was horrible. She is a really wonderful person, so nice, and nothing bad you could say about her. But I just felt so self conscious around her, I felt like a 14-year-old school boy trying to impress a girl he likes and that every time I said a joke, I would turned around and judge myself and say, "that was stupid." (laughs)
TVRage: So we're only a few episodes available so far, what can you tell us about the future of your character?
Martinez: I don't know what I can give away, but you definitely see her start to pull some strings to work for her and [Senator] Guzman. You see her go to Afghanistan, which is absolutely ridiculous and hysterical. You see what she wears, and with all the other characters the craziness and mayhem that ensues, you see her use her power behind the scenes.
--
'Alpha House' is available on Amazon Prime at Amazon.com/AlphaHouse, having premiered with three episodes available on Nov. 15. On each successive Friday, a new episode will become available.