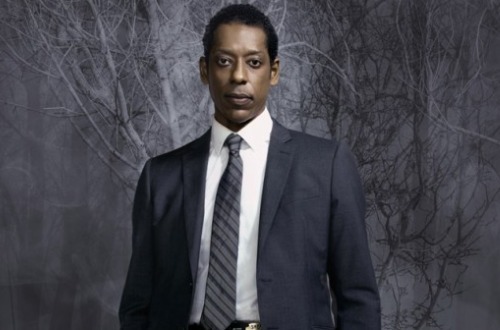 His acting career spans over the course of 20 years, covering everything from 'MADtv' to 'Office Space,' and even 7UP ads. But nowadays, Orlando Jones is taking on what could very well be his most intriguing role to date by starring as Captain Frank Irving on FOX's new freshman drama…you may have heard of it…'Sleepy Hollow.'
Created as a modern-day retelling of Washington Irving's 1820 short story 'The Legend of Sleepy Hollow,' the series centers around Ichabod Crane (Tom Mison), Lt. Abbie Mills (Nicole Beharie), and Capt. Irving (Jones) in their quest to take down the Headless Horsemen before he brings about the end of days. Piece of cake, right? Hardly.
TVRage was fortunate enough to catch up with Jones in an exclusive chat where he shared some insights about the show, his love for all things fandom, and assured us that as far as twists go, the best is yet to come.
TVRage: What was it that immediately drew you to 'Sleepy Hollow'?
Orlando Jones: It's not like anything else. I was like, "Okay, it's not a procedural and it's not a soap opera, and it's not a comedy, but it's funny." I just thought it was a show that really didn't have a genre and that was really exciting.
TVRage: The latest episode introduced us to two members of your family, your ex-wife and your daughter, Macey. Things seem to be pretty rocky there. Will we be getting more of a backstory on that whole scenario?
Jones: Yes! I wish I could say more, but, yes, you will definitely learn a lot more about him, which I think is going to be a lot of fun. And the most fun part is that where it's going, people are completely clueless too.
TVRage: Frank's backstory is something I think everyone has wanted to know more about, especially given the fact that, on this show, you're never really certain who you can trust. As a result, there's been a lot of theories floating around about your character. Has anyone's prediction ever been close to the truth?
Jones: No, all predictions are off. None of them are even close. It's really fun…but none of them are close. I think the most exciting thing to me about the character is that this is the audience's way into the show because he is not only the non-believer, but he's holding the premise, I think, to scrutiny every week and up until seeing the horseman it was just sort of like, none of this tracks…yet you guys are producing results and in a world where no one else is giving me anything remotely close to an answer…It's interesting to have gone through that evolution with the audience and just see them trying to figure out what is going on…It's going to be a lot of fun to see where this is going, not just for me, but for Jenny and Ichabod and all of them. I just really love the show. I'm a big fan of the show, and I think I'm probably enjoying it as much as the Sleepyheads are.
TVRage: How will Rev. Boland fit in with all of this? He's one of Frank's most trusted advisors, correct?
Jones: He is. I think he's as trusted of an advisor as anyone is with their reverend or priest. He's definitely a spiritual advisor and we absolutely have a closeness, but I think what you're going to discover is that…we're only now just exploring what makes this guy tick and what he cares about and what he doesn't care about. That part has been really exciting and really fun. On Monday, you'll see some really cool stuff.
TVRage: There seems to be some really great chemistry between Frank and Abbie's sister, Jenny, which seemed especially prominent during the last episode. Is there any chance that could lead to anything? I already want to start shipping you two!
Jones: (jokingly) I'm really tired of her treating me like an object, like a piece of meat. She's always looking at my butt and it's just really disconcerting, you know? Umm…I don't know how together we're going to get simply because this show is a war and we are at war. But I get it, she's a rebel and I kinda dig that part of her…so I think he has a real appreciation and affinity for her. But if she doesn't stop staring at my ass, honestly, I'm going to have Human Resources shut this whole thing down, because I can't take anymore.
TVRage: Speaking of shipping, there's a huge 'Sleepy Hollow' fandom out there and it's a phenomenon you seem to have fully embraced. How would you say this involvement adds to your performance as an actor? Does it ever influence your process at all, being immersed in that?
Jones: No, it's a totally different thing, for me anyway. I think those roles are very separate. At the end of the day, I've been a part of the fandom world ever since I was playing with 'Star Wars' dolls when I was six. I feel like I've been involved in fan fiction for a long time. I'm involved in it everyday when I do a tea party with my daughter. I have better hashtags, mind you…I see the fandom as not just people, but also artists, so it's really fun to share the fan fiction and share the fan art. 'Fifty Shades of Grey' came out of the 'Twilight' fandom and it is a fandom work. That's amazing and I hope to see more of that. But I'm just having so much fun, getting to interact with an amazing group of people and be the nerd that I am.
TVRage: You were tweeting about 'Supernatural' earlier this week, remarking how you think Osric Chau should come visit 'Sleepy Hollow' as a sketch artist named Kevin, just like his character on 'Supernatural.' What are the odds of that really happening?
Jones: Look, you and I both know that I'm not in charge. (laughs) But you know how cool it would be? It would be awesome. I mean, I'm a 'Supernatural' fan, so…I don't know if it's impossible. The shows are just so similar in some ways that it was just fun for me to be able to introduce ['Supernatural'] to the 'Sleepy Hollow' fandom.
TVRage: And finally, the show was recently nominated for a People's Choice award in the "Favorite New TV Drama" category. How does that feel? Where were you when you heard the news?
Jones: I probably was on set when somebody mentioned it…It felt a little bit like it did when we heard we were picked up for Season 2 and Episode 2 had aired and I thought it was a joke. I really did…and then somebody else said it and I was like "Oh, I get it. You guys have all gotten together and you're going to trick the actors into thinking we got picked up and giggle, giggle. It's not possible. We've only had two episodes air. What are you talking about?" So I went online and was like, "okay, what?"…I thought this was a prank. So the People's Choice Awards has been, I'd say, another cherry on top of a really fun, crazy, and certainly unexpected year.
'Sleepy Hollow' airs on Mondays at 9/8c on FOX.