Since we're witnessing the 'The Golden Era of Television' (well, the third one), it's pretty easy to sing the praises of such shows like 'Mad Men,' 'Homeland,' 'Modern Family,' and basically everything on HBO. But, let's face it: we like the bad stuff too. Whether it's teary-eyed confessionals, stupid pranks or staged catfights, we all have a TV guilty pleasure (or two) that we simply cannot quit.
So, that's why I'm rounding up my favorite television vices each week, so that we can all find solace in knowing that someone else is watching – and enjoying – the same vast wasteland.
Because the first step in healing is admitting that you have a problem.
This week's Guilty Pleasure: Holiday Television Specials.
'Tis the season to watch classic Christmas specials where the ye old claymation tradition rules the yuletide roost, along with a slew of holiday hootenannies meant to make you feel warm and tingly on the inside. Man, isn't this time of year the best? Maybe it's because I'm a semi-Christmas baby myself (I have the dubious honor of being born on the 26th of December) but I just can't get enough of Christmas-y content on my television. And if it has Rankin/Bass attached to the special? Forget about it. I'm there, in front of my TV, with (jingly) bells on.
Sure, Scrooge, most of these specials are fairly cheesy, but, to paraphrase that eyelash-batting babe Clarice, from 'Rudolph The Red-Nosed Reindeer,' that's what makes them so grand! Now, grab a cup of hot cocoa and your flannel PJs and join me in watching these holiday classics.
'Rudolph The Red-Nosed Reindeer'
Forget the fact that CBS made the blasphemous mistake of airing 'Rudolph' way too soon (it aired two days before Thanksgiving!). We should really take note that 'Rudolph' and his well-coiffed friend, Hermey, and the rest of the North Pole gang, were trending on Twitter the night it aired. People were all like, "Don't bug me; I'm watching 'Rudolph'!" That's how far entrenched this 1964 classic lies within our pop cultural realm. We don't care if we've seen it a million times, or that each year it actually seems shorter than what we remembered as a child. We don't even notice that Mrs. Claus eerily resembles Roseanne, or that the really tall, nerdy elf doesn't get any flack for being different. Why? Because watching this Rankin/Bass classic is part of our goddamn Christmas soul. 
'A Charlie Brown Christmas'
First of all, this special has the best soundtrack ever, hands down. Put on the tunes of Vince Guaraldi at your next Christmas party and watch your guests' limbs move at a pace that seem independent from their body. The 1965 special also has a great message about the deeper meaning of Christmas – less commercialism, more care towards your fellow man – and I'm pretty sure it's responsible for saving a lot of ugly Christmas trees every year. Charlie Brown might have the worst receding hairline ever for a child (poor guy) but what he lacks in hair, he makes up with heart. This one already aired too, but I know you have it in your collection anyway.
'It's A Wonderful Life'
I know: this one can be a downer at times. Poor George Bailey never did what he wanted to do. He didn't travel the world and become his own man; instead, he got locked down with a boatload of kids, an old house and a floundering family business. Not to mention, he went deaf for saving his brother from drowning, and then he got slapped in his deaf ear by a drunkard pharmacist. I wouldn't blame the guy if he jumped off that bridge, you know? But when Clarence, that eccentric old man angel, helps put George's life into perspective it's a reminder for us all to be thankful for all things in our own lives – the big and the small – and that we truly have a lot of live for if we only took a moment to breathe and take a step back. *Airs on NBC on Sat. Dec. 14 at 8:30/7:30c.
'The Year Without Santa Claus'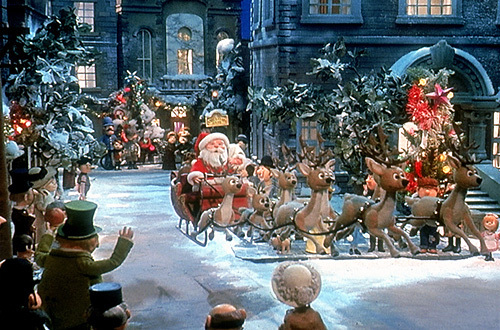 This is another Rankin/Bass treat. It points out a fair dilemma: Santa's old and he's tired, and maybe he'd rather stay home and watch an episode of 'Castle'  (or, in 1974, when it first aired, it would probably be 'McMillan & Wife'). Mrs. Claus takes matter into her own hands and tries to change her hubby's mind (I mean, he is the breadwinner, after all), but what really makes this special are the weird half-brothers Heat Miser and Snow Miser. Mom is Mother Nature, and they don't look anything alike, but they bicker like brothers and fight each other with the most hilariously awful special effects ever. Watching them fight over the North Pole really makes Christmas for me. *Airs on ABC Family on Mon. Dec. 23 at 7/6c.
'National's Lampoon Christmas Vacation'
Lastly, no Christmas is complete without sharing it with the Griswold family. Not only is it cute to see little Johnny Galecki barely into puberty, but watching Julia Louis-Dreyfus as half of an uptight yuppie couple is pretty much amazeballs. Chevy Chase is, of course, everyone's dad: the dad who tries each year to make Christmas that much more memorable and special than the last, all while making a complete ass of himself. And I have a feeling whenever this Ugly Christmas Sweater Party phenom ends, it will be all about the dickies. *Airs on ABC Family on Dec. 15, 20 and 25 at 8/7c.