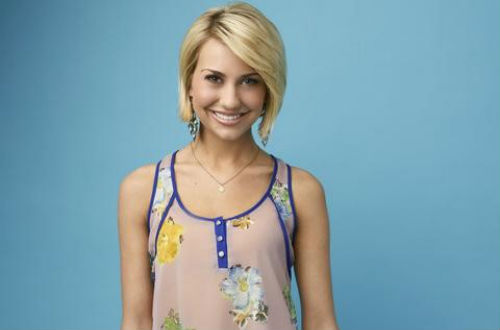 Chelsea Kane's not just the adorable blonde rocking fabulous clothes on 'Baby Daddy,' but she's one tough, intelligent and hilarious lady famous for strutting her stuff as Riley Perrin on the hit ABC Family comedy.
Not only is the series returning in 2014 for Season 3 (Jan. 15 to be exact), but it's also airing a special Christmas episode titled "Emma's First Christmas" (read some teasers here about said episode) this Wednesday focusing on the Christmas spirit and, of course, getting that perfect gift for baby Emma.
Well, TVRage was lucky enough to chat with Kane about the upcoming episode, what fans can expect and how the actress celebrates the holiday. Check it out!
TVRage: Why don't you tell us a little bit about the holiday episode?

Chelsea Kane: The holiday episode is very much your typical 'Baby Daddy' episode. A lot of hilarity ensues, but at the same time, I love it, because I think at the holidays you want to believe in a little bit of magic again. This episode definitely has a little something special: Santa and elves and a little extra pixie dust kind of sprinkled on the episode. It makes you feel real good.
In this particular episode, Danny (Derek Theler) and Ben (Jean-Luc Bilodeau) -- it's Emma's first Christmas, first of all -- and we want to make it perfect. So, Ben wants to get Emma the big, hot holiday toy, which is the Gig-Gorilla, and, of course, it's impossible to get. They figure they'll have a better chance if they're working at the mall. Ben and Danny become some of Santa's elves (laughs) at the mall, and there's a hilarious little dance number, and Leslie Jordan guest stars, who we just adore. He was so much fun to have on set. They're all dressed up as elves [and] they're dancing, which was absolutely hysterical to watch them figure out during rehearsals (laughs).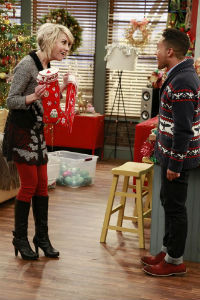 As far as my storyline, Bonnie (Melissa Peterman) always puts on the perfect Christmas. I grew up living across the street from the Wheelers, as a kid, and looking over at their house in their window Christmas morning, it just looked perfect -- all the lights, the food. So, I decide, as Emma's godmother, that I want to spend Emma's first Christmas with the Wheelers. Tucker (Tahj Mowry) and I decide to be Bonnie's little helpers, and it's a complete nightmare. She's absolutely crazy, and the reason Christmas is so perfect is she has this huge to-do list. She's kind of a slave driver with making it perfect. Tucker and I try to get out of helping her several times, but at the end, in typical Christmas fashion, we all remember what the holiday is really all about. It's a sweet little episode. I love it.
TVRage: For those wondering, will be there any Danny, Ben and Riley action, or will that be saved for when the show comes back in January?

Kane: Yeah, that's definitely saved for when the show comes back, because in reality this is just a hiccup episode in the middle of our season. Season 3 picks up the day after Season 2 ends. We didn't really touch on anything that happened at the end of Season 2 [in the holiday episode], because the minute [Season 3] starts, it's me walking into the boys' apartment the morning after the great, big party, and Ben and my first kiss. We definitely saved all the romance for the new season, and it's great.
TVRage: Back to the holiday episode. Are your Christmases anything like Bonnie's? How do you celebrate?

Kane: I always go home to Arizona to be with my family. My mom does remind me of Bonnie, just a little bit, not so much that she's crazy, but she definitely has a huge list of everything we have to do. Usually, [we have] events planned every day, whether it's other Christmas parties, or visiting family, or this, or that. You just kind of show up at home and surrender to whatever mom (laughs) has put on the dance card.
I love the holidays. The holidays for me is always about friends and family and that slight bit of panic, because I'm one of those that waits until the last minute to do any of my shopping or wrapping. So, usually, Dec. 22 or 23, I'm crying in a pile of wrapping paper, like "why do I do this to myself?!" I'm waiting for the anxiety attack that I know I'm going to have. (laughs) … But, then it all comes together Christmas morning, and it's all worth it.
TVRage: Finally, you all get to do some pretty crazy and hilarious stuff (like Danny and Ben dancing around as elves) for the show. Do you enjoy that part of it?

Kane: I really do. We were talking about it the other day [and] the amount of crazy costumes, and wigs and prosthetics (laughs), we've all had to wear at different times. There are some really fun characters that we've been able to play, especially in Season 3. We have a renaissance fair episode, we have another flashback episode, we have Emma's first birthday where Danny and Tucker are dressed up as clowns. Every other week it seems someone's walking onto set in some crazy costume that kind of stops everybody in their tracks. It's a blast, and for me, personally, to get to wear the fat suit in the flashback episode is always so much fun. I love all the characters that we get to play when we're "young." … We get to go to work and play dress up. It's not a bad gig.
Be sure to tune in to the special holiday episode on Wednesday, Dec. 11 at 8:30/7:30c on ABC Family. Also, don't forget to watch the Christmas-themed 'Melissa & Joey' episode (which Joey Lawrence talked to us about last week) right before 'Baby Daddy.'