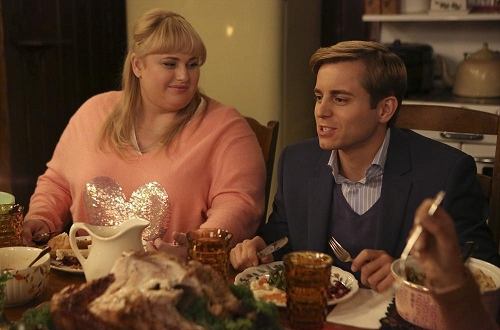 Far from home, but settling into his new place in Los Angeles, British actor Kevin Bishop finds himself among a talented cast on the ABC sitcom 'Super Fun Night,' while still maintaining both his accent and his comedic sensibility.
Ahead of the Christmas episode on its inaugural season, set to air on ABC on Dec. 11 at 9:30/8:30c, Bishop took time to talk about the show and what it's like working with such a varied cast. Just a week earlier, Bishop celebrated his first Thanksgiving with his cast members, and after chatting about that enjoyable occasion, and the fact he doesn't get tired of the great weather in SoCal, we got to talking about the nature of the show.
TVRage: What's particularly fascinating with 'Super Fun Night' is the diversity in the cast. How does that contribute to the attitude on set and to the comedy on screen?
Kevin Bishop: Well, we have Rebel [Wilson] and Kate [Jenkinson] who are Aussies. Lauren [Ash] is Canadian. There is me, who's British, and we've got one American in Liza [Lapira]. I think it really helps. I think people, especially British people, when they are away from home, they behave very well. They're much less arrogant, much more polite, and that's why we have such a lovely time, because no one is being a diva.
TVRage: Until you settle in for a good run on the series?
Bishop: Oh god, then they'll lose their minds and start asking for ridiculous thing, but for now we can just enjoy ourselves and be humble and grateful. But yeah, obviously, Seasons 8, things will get pretty crazy.
TVRage: Another interesting aspect of the series is that you don't change your accent, correct?
Bishop: I do have to change it a bit. My real accent isn't quite the same as Richard's, but you may not be able to hear it as an American.
It's a very different character than I normally play. Richard is very pushy, upper middle class, while I am working class. I didn't go to boarding school, whereas Richard did from age four or five. A lot of Americans think that all British people are like that, all like Richard, when in fact there is a very small percentage. We're talking about one or two percent of the nation that are actually like Richard, and the rest are pretty normal.
So I was always really interested in playing one of those characters. I based Richard very much on close friend of mine who I write with, and I'm just fascinated by his story. So, when we were first in the room with the show, I was telling the writers his story, and that's how we developed the character.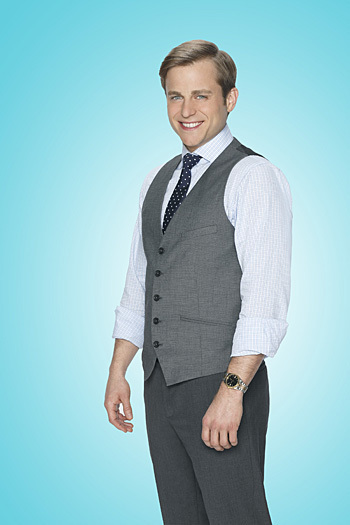 TVRage: So what's it like as a British actor to not be playing an American when it seems so common on television?
Bishop: When I came to Los Angeles for pilot season, in everything I was going up for, I was playing an American. All my buddies, they are all doing turns playing an American too. Even what I'm doing it's a bit of a turn, it's not quite what everyone else has to do, and it's just nice to play a Brit out of a comfort zone in a big scary law office. It definitely gave the character for me much more of an arc than just another America guy. It was interesting to play that.
TVRage: Do you find a difference in sensibilities between American and British comedy?
Bishop: I think American comedy is very good  structurally and lining up gags, and the stuff I hear really makes me laugh. The difference is that in English comedy, they tend to play things real, from the heart, and sometimes it's uncomfortable to watch British comedy. I think that's what attracts British people, it's that kind of hat morbidity.
British comedy is very dark. Its foundation is that it is uncomfortable; it's about us being uncomfortable, and British people see that dark place and they go straight for it. Whereas American comedy, they don't necessarily want that. Which is fine. Sit here for half an hour and have a laugh, so if you're in that kind of mood, it's perfect.
British comedy will push your buttons, make you uncomfortable. That's what it does. I believe sadness and laughter, they are almost in exactly the same place, and you can turn it either way.
I think that Rebel being Australian, this show definitely has a sense of British comedy, she has that darkness about her, and it has that sadness element to it.
TVRage: And it comes in under cover, you are led in with a happy premise.
Bishop: My Americans friends, their comment was," one minute you're laughing, the next Kimmie is crying on the couch and then 'Monster Mash' comes on. What the hell is that all about? I just want to laugh." And I get that, but in England, it's almost that we have to have that dark element running parallel to the comedy. We're just so dark we can't let ourselves laugh for a half an hour and be guilt free.
TVRage: Another facet of American television is the holiday show. What can we expect from the Christmas episode, and did you have a grasp of the excitement and importance of such an episode?
Bishop: That is what's good about American comedy, as what they do is touch on a very stressful time for families and people, and it's a time where we need to be with people we love. You're away from home; you're trying to get home. It's the one time of the year that you feel if you're not at home, you're home sick.
I think with this episode, we've got everything you want from a Christmas episode. You have that Christmas feel when you watch it, and it's also about the imperfection of Christmas. Everyone's family is messed up, no one is perfect, and you have to make do with what you got.
There are the elements of Christmas, and I haven't seen it, but from what we've filmed, people will be shocked and surprised by Kimmie's emotions, and I think Rebel really touches on something very personal. I thought it was amazing. So fingers crossed.
Catch the 'Super Fun Night' Christmas episode on Wednesday, Dec. 11 at 9:30/8:30c.