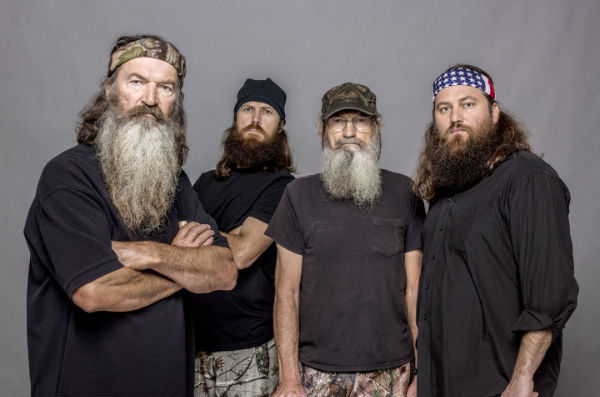 Feel free to file this under the "foregone conclusion" heading. Just over a week ago, a media firestorm erupted over 'Duck Dynasty' patriarch Phil Robertson making anti-gay and racially insensitive comments in an issue of GQ Magazine. A&E quickly suspended Robertson from the series for the remarks, but a string of petitions and complaints were then filed by fans and supporters in protest, demanding Phil's suspension be lifted. Today, those folks got their wish.
A&E has now announced that 'Duck Dynasty's fifth season will resume filming this spring (as previously scheduled), and that Phil Robertson will be present in all episodes. If anyone is surprised by this, I'd question their naiveté. 'Duck Dynasty' is the single most profitable property that A&E Networks has ever had. The merchandise sales alone could buy a small island.
The other members of the Robertson clan have very clearly said that they would never dream of doing the show without their patriarch. If A&E had even considered forcing the issue, I have no doubt that the Robertsons would have walked. Remember, they were a family of millionaires way before they ever got a TV show. They don't need the work, or the money.
Honestly, I have my doubts as to whether A&E ever intended to discipline Robertson in any meaningful way. The show itself has been on its annual production hiatus (for duck hunting season) since late November. In other words, the week or so that Phil has been suspended were all days he was never expected to come to work anyway. That's like being suspended from school for the length of spring break. It's less than a slap on the wrist, it's a slap that didn't even connect.
Whatever your opinion of Robertson, his comments, or A&E's handling of them, I think we can all agree on one thing: This whole saga generated mountains of publicity for 'Duck Dynasty's fifth season, which just happens to premiere on Wednesday, Jan. 15 at 10/9c. Funny how that turned out.