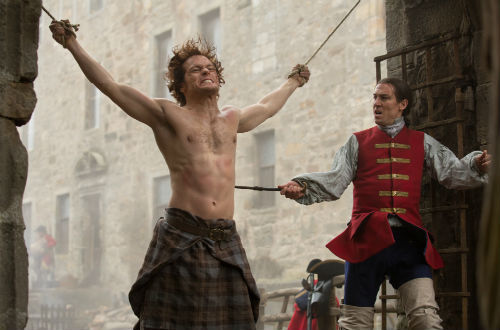 The trailer for Starz's new drama 'Outlander' is finally here!
Yesterday, a day after the 'Outlander' winter press panel at the 2014 Television Critics Association, the network released the video from the upcoming Ron Moore series, and it's 48 seconds of pure goodness.
Based on the international best-selling 'Outlander' novel series by Diana Gabaldon, the series revolves around Fraser, played by Sam Heughan ('Doctors'), and his passionate affair with Claire (Caitriona Balfe). Claire, a married 1945 combat nurse travels back in time to 1743. Not only does Claire's life become threatened, but she soon finds herself pulled between two different men.
Fans of the novels might be concerned whether a TV series can truly illustrate the plot and characters, but Moore, known for his series 'Battlestar Galactica' and recent project 'Helix,' explained to reporters Friday, "My job is to interpret and develop it [the book] for another audience. My role is not reinventing but adapting it. … There is an audience for it and a dedicated fan base who have read these for years. … I take that obligation seriously. I want to give them their story, but I have to translate it and tell a story."
In more 'Outlander' news, Starz CEO Chris Albrecht revealed to Deadline at the TCA's that he'd be "shocked" if his network didn't bring Gabaldon's second book to life on the small screen.
Check out the trailer below, and be sure to watch 'Outlander' when it premieres this summer on Starz.