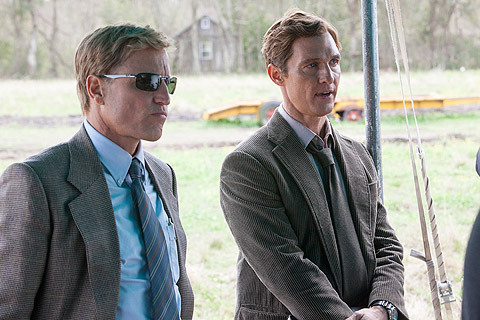 Last week, we let you know what to expect from the second episode of HBO's 'True Detective,' entitled "Seeing Things." Today, we've got the scoop on what's set to take place during this Sunday's third outing, "The Locked Room." What's in store for Detectives Martin Hart and Rust Cohle this weekend? Read on to find out.
Warning: I did my best to avoid any major plot spoilers below, but if you'd prefer to go in completely blind (or just haven't gotten around to watching your DVR recording of episode two yet), it would be wise to turn back now.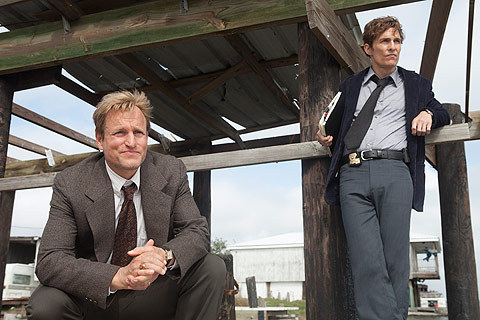 - Following last week's climactic discovery of the sinister burned down church that murder victim Dora Lange spent the last few months of her life attending, Hart and Cohle track the congregation to a traveling tent revival in the middle of nowhere.
- During this visit, we are treated to an epic back and forth between the two detectives about the virtues and follies of organized religion. Not only does this serve as an acting showcase for the two leads, it further crystallizes the opposing philosophies of both characters as men.
- Rust's obvious contempt for Marty's extramarital dalliances begins to come to a head, after the former pays an unannounced visit to the latter's home. Hart's reaction is a mixture of anger and worry that points to a man with deep insecurity about his family situation.
- Michelle Monaghan is finally given something to sink her teeth into acting wise, and she knocks it out of the park. Hopefully her role continues to expand as the series progresses.
- The newest suspect in the Dora Lange case is described only as a "tall man with a scarred face, possibly burnt." My lead guess is one Frederick C. Krueger. He has quite the rap sheet.
- We get treated to another example of Cohle's interrogation expertise near the middle of the hour, although the method displayed here is a lot less violent and more cerebral. The perp in question is a burglar that could be referred to as a "sticky bandit," albeit for an entirely different reason than the one presented in 'Home Alone 2.'
- Finally, perennial sad-sack Cohle gets fixed up on a double date with Marty and Maggie. It actually goes a lot better than you might expect, at least for Rust. Hart doesn't end the night too well.
'True Detective' episode three airs this Sunday night at 9/8c on HBO.