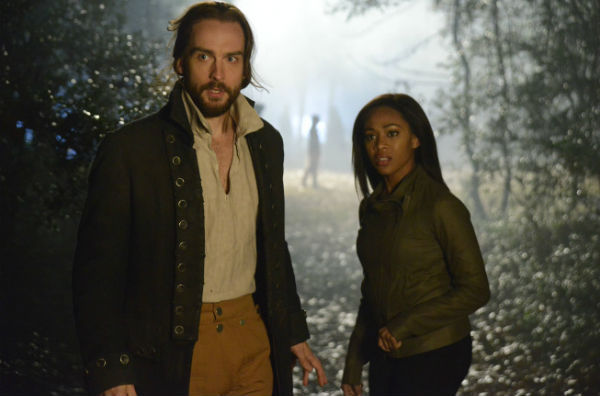 FOX won the 18-49 demo race, while ABC drew the most total viewers.
The two-hour season finale of 'Sleepy Hollow' remained in its usual range, which is actually a little bit underwhelming when you consider how much FOX hyped it up. Hour one matched last week's 2.2, while hour two rose two tenths to a 2.4.
'The Bachelor' matched last week's season low of 2.3, continuing an overall downward trend for the veteran reality series. 'Castle' rose slightly, earning a 2.0. 'How I Met Your Mother' bumped up a tenth to a 3.1, posting the highest scripted demos of the night. '2 Broke Girls' matched last week's 2.7.
'Mike & Molly' went tumbling down three tenths to a 2.1, continuing an up-and-down season. 'Mom' also dropped, tying its previous series low of 1.9. If fans had any hope of a rebound for 'Intelligence,' they should prepare to be disappointed. Week three of the Josh Holloway fronted action drama fell to a 1.1, which is basically a death sentence. CBS doesn't tolerate 1.1s on Monday nights for long.
'Hollywood Game Night' scored a 1.3, up three tenths from its special Christmas airing. A second new episode rose even higher, posting a 1.5. That's an all-time high for the game show, and is no doubt extremely pleasing to NBC. Unfortunately, lead-out 'The Blacklist' set a new series low of 2.3. Luckily, a 2.3 is still much higher than the NBC average. Finally, 'Hart of Dixie' and 'Beauty and the Beast' earned their usual 0.4 and 0.3 ratings for The CW.
Key: Broadcast Network - Show Name - 18-49 Rating - 18-49 Share - Total Viewers In Millions
8PM
CBS - How I Met Your Mother (N) - 3.1 - 9 - 8.83
ABC - The Bachelor (N) - 2.3 - 6 - 7.94
FOX - Sleepy Hollow (N) - 2.2 - 6 - 6.82
NBC - Hollywood Game Night (N) - 1.3 - 4 - 4.72
CW - Hart of Dixie (N) - 0.4 - 1 - 1.00
8:30PM
CBS - 2 Broke Girls (N) - 2.7 - 7 - 9.03
9PM
FOX - Sleepy Hollow (Season Finale) - 2.4 - 6 - 7.05
CBS - Mike & Molly (N) - 2.1 - 5 - 8.92
NBC - Hollywood Game Night (N) - 1.5 - 4 - 4.23
CW - Beauty and the Beast (N) - 0.3 - 1 - 0.74
9:30PM
CBS - Mom (N) - 1.9 - 5 - 8.27
10PM
NBC - The Blacklist (N) - 2.3 - 6 - 8.83
ABC - Castle (N) - 2.0 - 6 - 8.96
CBS - Intelligence (N) - 1.1 - 3 - 5.77
Source: Nielsen Media Research