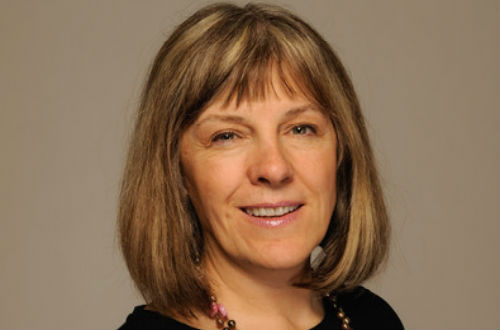 For years, actress Mimi Kennedy has been contributing to the acting world. From playing Abby on 'Dharma & Greg' to her role on 'Homefront' to her stint on 'In Plain Sight,' Kennedy is mostly recognized for her comedic talents. She is one lady who knows how to make an audience crack a smile and, of course, a hearty laugh.
Yesterday, I was lucky enough to speak with Kennedy about her recent works, including guest starring on 'Mom,' her upcoming role in HBO's 'The Brink,' her return to the other HBO hit 'Veep,' and what she remembers most about working with the late and great James Gandolfini.
TVRage: Most recently, you've been recurring on CBS' 'Mom.' So far, we've seen you in four episodes, will your character, Marjorie, be returning anytime soon?

Mimi Kennedy: Yes, I think I'm going to work very soon -- in February, again. They tell me my treatment is going to be successful [Marjorie suffers from breast cancer]. They're not killing me off. As it is, I think they're taking their first season one script at a time. Yeah, I'll be doing another one, and I hope maybe a few more.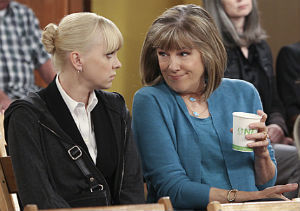 TVRage: For a comedy, 'Mom' tackles some dark issues, including alcoholism and breast cancer, which your character suffers from. What are your thoughts on a comedy finding humor in horrible situations? Is that something you appreciate as an actress?
Kennedy: Absolutely. I actually prefer it when comedies deal with real life, what people are going through in real life. My experience is I laugh harder when an experience has been painful. If someone is able to to make it funny in a human way, not in a brutal way, I laugh all the harder. I have a rule for myself: if you felt the pain, you can make the joke.
I haven't been through chemo and radiation myself, but I have many, many friends and family who have. So, I've accompanied them through it. It seems to me that they have always, the ones that I know, they've always joked about it … because it's a long process, and they want to feel alive and humor is a great way to, actually, banish fear. On the other hand, when somebody's making jokes about somebody's pain, in a different way, then I get angry. The answer is: I really prefer it, as long as the comedy is being done in a way that's seen inside the problem, not outside.
TVRage: One of the newer shows you've booked is HBO's pilot comedy 'The Brink', starring Tim Robbins and Jack Black. What can you tell us about your character?
Kennedy: Well, it's all in the title, CIA director (laughs). I can't tell you anything, or I'd have to kill you, I guess.
TVRage: And is this a recurring character?
Kennedy: I don't know. They're writing more scripts, but I understand the Situation Room in the White House is where they're dealing in a kind of '24'-esque way with an ongoing situation. Unless somebody drops dead in their chair, or goes on a bathroom break and is never seen again, I assume we would have to be in it for awhile. 
TVRage: Now, I hear you're returning as House Majority Leader Mary King on HBO's 'Veep.' What can you tell us about your episode and do you know when you'll be returning?
Kennedy: I don't. I go next week to Baltimore and we rehearse. Armando's [Iannucci, 'Veep' creator] process is get us on our feet, gives us an outline of what we're doing, and maybe something written, and then he says "just do it," and improvise ... Then, they write the shooting script. So, I'm many steps away from knowing what I'm doing.
TVRage: How is it working with Armando again, since you two previously worked together on 'In the Loop'?
Kennedy: I love working with Armando. I love working with Armando. He was the director/writer of 'In the Loop,' and his process is the most delightful one that I've ever had.
TVRage: What is it about working with him that you enjoy so much?
Kennedy: Well, I guess it starts with the way he sees the world. I think he's very attuned to human foibles. In an almost Shakespearean way, but very minutely. He once said that his favorite moments to capture on film are when the actor does not know what to say ... because so often in life we don't know what to say. That look in our face is just confusion and hesitation. He just loves capturing that. I guess it's his minute concentration and attention to human behavior.
Second, when he constructs a situation and writes a script it's so easy to play, because the turns are psychologically accurate. Then, he shoots it script to script and then looser. And then he says, "do whatever you want." You know, now make the thing your own and go wherever you need to go with it. … He knows story and he knows story come from characters, so that makes it really easy. Also, the way he uses cameras. His camera crew is very sensitive to what he wants captured.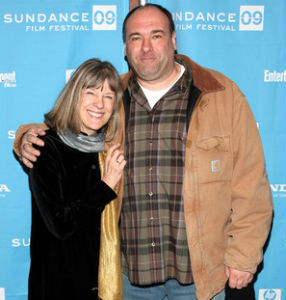 TVRage: Speaking of 'In the Loop,' you also had the opportunity to work with the late James Gandolfini. What do you remember most about working with him?
Kennedy: Well, I remember just the feeling of being in the room in fifth grade. That's how he made me feel. That we were 10-years-old, fooling around in the back of a Catholic school classroom. I remember one time he put his finger to his lips, and it was his way of saying, "Stop talking now. Let the scene breathe." And, boy, was he right. It was amazing, and it really relaxed me.
I think people loved Jim because he made acting easy, he made acting fun, and he never made other actors feel self-conscious. He tried not to be self-conscious. He would always make a joke about himself very early on. I remember he said and thought, "I'll be fired," for 'In the Loop,' because he didn't know what he was doing. He pretended he didn't know what he was doing, which is a way of freeing yourself up for the moment to whatever it is you're being asked to do, and being captured in that moment. Although, he did do a lot of research because he was playing a general, and he wanted to be responsible to military personnel, to represent what they were doing, at least accurately. His combination of love and respect and real freedom was captivating.
TVRage: Lastly, you're extremely talented when it comes to comedy. What is it you love about taking on a comedic role?

Kennedy: The word "skewering" comes to mind … We humans take ourselves seriously to a fault sometimes, even when we don't know we're doing it. I spend a lot of time in the real world with activism, and politics, and my favorite people are the ones who understand that though they're working for change it's not going to come because of them. It's not going to come because of any one person. It's everybody together that makes the difference … The interaction among human beings, it never goes as smoothly as anybody wants it to. Those things can be very funny, but I think you have to have a sense of security or insecurity. I don't know what the balance is, but comedy roles -- it's just great to laugh. It's great to laugh until you cry.
From 'Mom' to 'Veep' to 'The Brink,' you can also expect to see Kennedy appear on ABC's new show 'Mind Games,' starring Christian Slater and Steve Zahn.