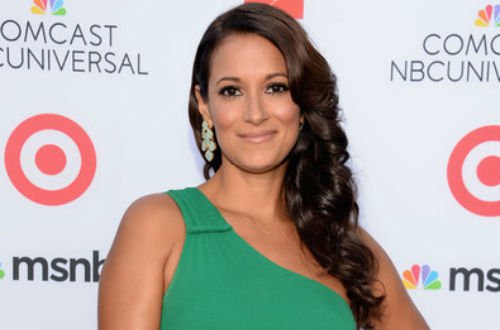 You might recognize Angelique Cabral, after all she stars in the new FOX comedy 'Enlisted' as the competitive, hardworking and "lone wolf" Sgt. Jill Perez.
Taking place at Fort McGee in Florida, the comedy revolves around three brothers, Sgt. Pete Hill (Geoff Stults), Cpl. Derrick Hill (Chris Lowell) and Pvt. Randy Hill (Parker Young), their sibling relationship, their time in a Rear Detachment Unit, and becoming better soldiers, all while dealing with humorous situations.
Enter Cabral's Perez. You could label her as "the responsible one" of the troops, but that doesn't mean she doesn't like to have fun (she can totally dance it out on top of a trailer, and she even has potential as a 'Top Chef' contestant).
I was lucky enough to chat with Cabral about her character, the new comedy and what it was like experiencing a real-life boot camp in preparation for her character.
TVRage: This isn't your first time doing comedy, you've been on 'Happy Endings' and 'Two and a Half Men,' among others, so what is it about 'Enlisted' you enjoy so much?

Angelique Cabral: The thing that drew me to the show to begin with was the script and the writing. That comes from our showrunner, Kevin Biegel, and our executive producer, Mike Royce. These men are veterans of television and, especially, comedies. It's just so well written, and my character is so well written, that I just love the writing and going to work every day. That coupled with the cast, I think our cast is extremely special and rare in that we all have heart and we love what we do. There's no divas on set. We're best friends. We're a crew. That's what I love most: the writing and our cast.
I think that's also what sets us apart: our writing and our cast. We have heart. We're not just the typical sitcom. There's a deeper truth going on in our show, dealing with PTSD and these soldiers who have returned from war, and the Army in general, and what the Army is about. We're dealing with some very tender and sensitive subjects, and we do it with heart and with grace.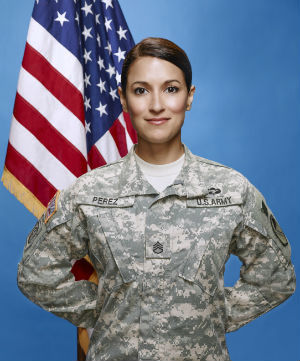 TVRage: That's one of the things I enjoyed the most. It is dealing with serious situations in a humorous way, which I think people can really relate to.
Cabral: Yes, exactly. Going back to the writing, it's a very hard thing to do to deal with sensitive subjects, but in a funny, lighthearted way, and not hit it over the head too much, but also make people want to tune in every week. They [the writers] do a very good job at balancing that.
TVRage: For those who aren't familiar with the show, how would you describe your character, and what do you love about her?
Cabral: I play Sgt. Jill Perez. She's a staff sergeant. She is tough as nails, very hardcore, very competitive, very bright, [and a] career-driven woman. She is a sergeant in a man's world, so she is acutely aware that her peers are usually men. There's obviously not as many women as high ranking officers in the Army. There's a part of Jill that's also fun and funny. We'll find out later, like this past episode with the girls' night out, she's just like any other girl. She wants to have fun, but she just takes her career really seriously. It's finding that fine line between her career and, also, just being a normal woman. Right?
I think all women in the workplace can relate to whether you're a doctor or a lawyer or even myself as an actress this idea of balancing the rest of your career. That's what's awesome about Jill, because she is one of the bosses on the show. She's not just like a cute girlfriend or a pretty love interest. She's Pete's equal … It's an honor to portray this kind of a woman. When I went to boot camp, and when [we were] meeting soldiers, and doing research over the past year -- these women [soldiers] are f***ing rad. They're hardcore, and they are serious, and they're intense, and it's an honor.
TVRage: You mentioned you and the cast went to an actual boot camp. What was that experience like for you?
Cabral: As a woman, I've never felt more vulnerable, or alone and scared, because I realized when I was there that this boot camp, with real recruits, that we were really going through this training, [and] that it's very, very physical. This work as a soldier is about strength, and women just aren't as strong as men. It was difficult and it was challenging, but when I came away it changed my life. It changed my perception of myself. It changed what I realized I can do as a woman and as an actress. And, I think it changed my perception of the Army … Overall, I'd say this boot camp was eye-opening, and humbling, and it taught me about myself in a way that I've never been challenged before. I came away with a sense of accomplishment and pride … It changed our performances on set too. We were very comfortable in our skin, because we'd gone through it. We went to the boot camp the week before we started shooting, and we got to set and it was like night and day. We understand the culture, and we know these characters that we're portraying.
TVRage: Did it change the way you portrayed your character, after experiencing that?
Cabral: For sure. I was much more confident on set. I was much more at ease [with] the language and the verbage that these soldiers use in daily practice, on post with each other. And, also the idea of me having to command these soldiers, my own platoon, I was much more confident in being able to do that. I didn't feel like I was playing a part. I felt like I was [a soldier].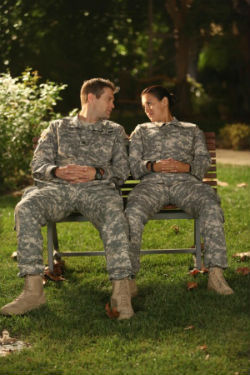 TVRage: Clearly, your character is a potential love interest for Pete (Stults). Can we expect upcoming romantic scenes/storylines for the two, or will that be in the future?
Cabral: We're not going to see any of that in Season 1. … But, in the rest of the episodes it's hinted at, but we never make out or anything. I think that will be explored in later seasons, if we get a second season. Geoff [Stults] and I have spoken with our creators, and it's just way more interesting to have Jill and Pete to always be at each other's backs and always in each other's lives and not really realize why. Then, maybe at the very end they're like, "Oh, it's because we love each other" or "Oh, it's because we're very connected." Kind of like the cat and mouse, or like Sam and Diane from 'Cheers.' The love/hate relationship. I think that's the smarter way to go. It's boring if they get together too soon.
TVRage: Without giving too much away, what else can we expect from future episodes?
Cabral: Keep watching, because every week gets better and better. Our show will surprise you. We have a lot of cool stuff coming up. We have big episodes. We have a big football game coming up this week, we have a flag football game that's huge, we have this big robot that's in one episode, and we have Kid 'n Play come and they give a concert in one episode. So, there's a lot of really fun, big episodes. But, there's always heart, and I always go back to this. In every single episode there'll be something that Army, soldiers, Vets, deployed soldiers can relate to and understand. It's these characters that bring everything to life. Our supporting platoon members are hilarious and they just get better and better. You see Derrick, Chris Lowell's character, has a girlfriend. The show, it's a gem, and I think people should just tune in.
'Enlisted' airs Fridays at 9/8c on FOX. Also, be sure to watch the show's webisodes, where you can see the cast of 'Enlisted' experience boot camp at Fort Bliss.