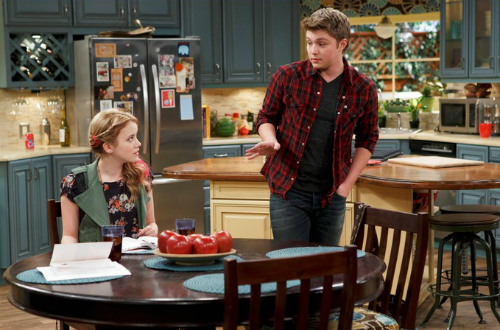 Joining a TV show in the middle of a successful run, where one's character is trying to fit in with those who already mesh together and are established to the audience, seems hard enough as it is. Working alongside actors who you grew up watching and adoring would seem to make it just a bit harder.
Sterling Knight, the 24-year-old actor and musician, found himself in just that situation as he enlisted on ABC Family's 'Melissa & Joey.' The comedy's two leads are familiar faces to many (at least to those growing up in the '80s and '90s), as Melissa Joan Hart and Joey Lawrence, are two actors who've some very notable and influential characters to their credit.
"I never really get star stuck or nervous or anything like that, but I grew up on 'Clarissa Explains It All' and 'Sabrina, the Teenage Witch' and 'Drive Me Crazy,' and Joey's stuff too," Knight told TVRage directly in a conference call Thursday. "I watched 'Brotherly Love' religiously, and his shows with [brothers] Matt and Andy. I was actually nervous to be on set. I grew up watching these guys."
'Melissa and Joey' follows Hart's Melissa Burke as she raises her niece and nephew, and in doing so, she decides to hire a nanny to help out – that would be Joe (Lawrence, who spoke to TVRage earlier this season). Premiering in August 2010, the series is near the end of its third season, with a fourth coming, and it was this year that Knight made his first appearance.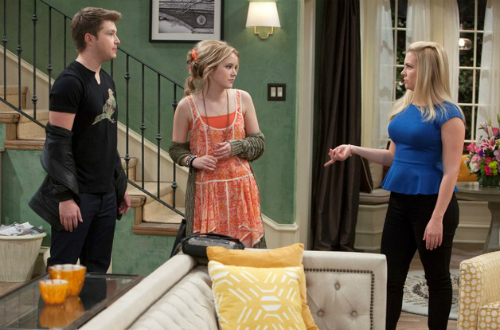 "[Hart and Lawrence] couldn't be nicer people, nicer costars, they are all very welcoming and professional," continued Knight. "They both know what they are doing, and they've been doing it for long enough, so it's been a really a blessing working with them. They are just really good people."
Knight plays Zander, a well-intentioned, slightly aloof young artist who becomes involved in a relationship with Melissa's niece Lennox, played by Taylor Spreitler. "He is the nicest, loveable idiot," Knight told reporters. "He's not the brightest bulb in the batch, and he constantly puts his foot in his mouth, but he wants good things for people. He just kind of messes things up once in a while."
Recalling the first time he was on set to assume the role, Knight told TVRage that "it's tricky when you're a recurring character coming in there for the first time. You're a guest in their house, you have to navigate the stars carefully, but they were fantastic, so my nerves were for nothing."
It also benefitted him, Knight added, that he was working with Spreitler, as the two have been friends for years, maintaining both a great professional and personal relationship.
Of that first strange day, Knight continued. "I just remember, it was so nice having Taylor there. I could kind of pull her aside, and be like, 'ugh, it's; Melissa Joan Hart!' and she's like, 'calm down, she's not really that cool,'" remembered Knight, chuckling. "Taylor was a really helpful person to have there to kind of calm me down as were rehearsing and I'm getting to know everybody."
For Knight to admit some slight nerves is certainly understandable but also noteworthy. With a background in theatre, Knight is not only used to working long hours for weeks on end, but is accustomed to performing under pressure situations in front of a crowd.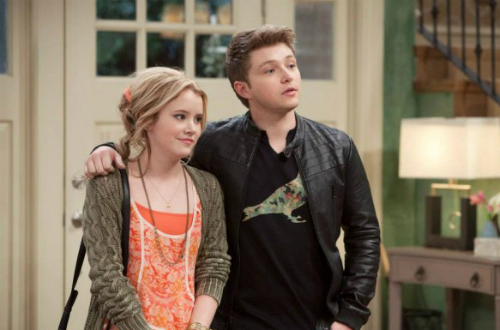 'Melissa and Joey' is a multi-camera sitcom filmed in front of a live audience, and while Knight embraces the fact that this is the closest thing to a stage play as possible, there is one problem, or issue, and it again comes back to the two stars.
"Everybody on the show is capable of making me laugh," Knight explained to reporters, specifically citing Hart's offbeat jokes and Lawrence's lengthy rants. Because of that, the young actor struggles at not breaking character. "I'm really bad at it, which is awful," he said, laughing. "I actually practice keeping a straight face sometimes, so I'll watch really funny stand-up comedy and try to not laugh, which essentially make watching the comedy not enjoyable."
"It's really difficult."
All things considered, Knight is thrilled to be working with two idols as well as a close friend. The future may be uncertain for Zander and Lennox, but the present is being enjoyed every moment by Knight and everyone on set.
 'Melissa & Joey' airs Wednesdays at 8/7c on ABC Family.