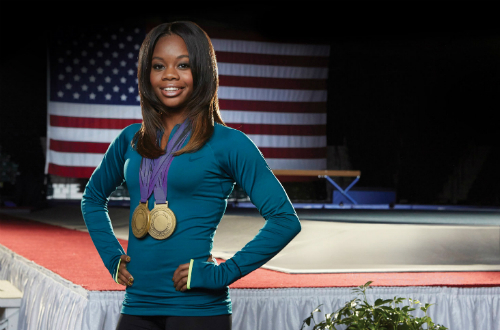 Lifetime achieved record viewership in January thanks to a pair of original movies, 'Flowers in the Attic' and 'Lizzie Borden Takes an Ax,' in which nostalgia and salaciousness were enough to find a large audience and some critical accolades.
While both of those were at least determined, focused efforts, their latest TV movie instantly falls far flat. 'The Gabby Douglas Story,' a bio-pic of sorts about the American gold medal gymnast, is not only ineffectual and contrived, but at times laughably absurd.
From birth to victory, we follow Gabrielle Douglas, the petite and precocious African American athlete who would gain fame at the London Summer Olympics in 2012, winning two gold medals, winning in the individual all-around competition, as well as the team competition.
This typical road-to-greatness story plots the most basic and clichéd of benchmarks, making sure to bring in a predictable roadblock every so often, only to overcome it moments later, usually with the help of a montage. It whittles down problems to their most simplistic – lack of money, crises of confidence, for example – and then shortly thereafter allows characters to surpass these difficulties with easy words of hope and wisdom.
In that, 'The Gabby Douglas Story' reinforces all the negative stereotypes about Lifetime productions: over-sentimentalizing important situations, cueing the audience to feel sad or inspired, and softening every edge in order to soothe and comfort.
Swelling music, pensive stares, and sage-like speeches make up the whole of this story, one that checks every box in the zero-to-hero, rags-to-riches genre. It should be that comprising a life story, albeit about a woman who just recently turned 18, is difficult to do in 90 minutes. Instead, it's as if there isn't enough to say, as the same pattern of success-obstacle-resolution repeats itself over and over.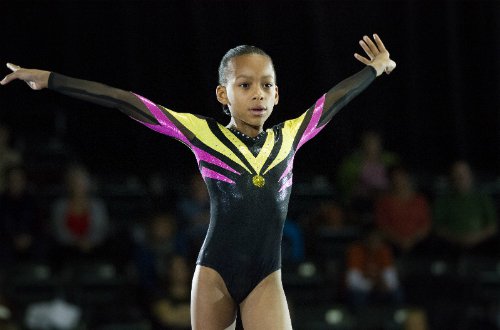 The gold-medalist herself was involved in this production, as she and her mother Natalie Hawkins are both executive producers. Douglas performed the stunts and acrobatics, while actresses Sydney Mikayla and Imani Hakim portray her pre-teen and teenage self respectively. It's hard to say Douglas and Hawkins' exact influence on the film, but anything the least bit troubling is certainly glossed over.
Opening with the birth of Douglas, we are informed that she has a rare blood disorder, and while it's known as branched-chain ketoaciduria, it's implied that we shouldn't care about the technical jargon or exactly what it entails. Like any other problem in the film, be it a hamstring injury, a fear of rejection, or a continuing lack of money, the audience is simply meant to know that a lot of hurdles had to be jumped, but it doesn't matter how or why.
Well, we know how -- sort of. Douglas' mother, siblings, and coaches spout generic aphorisms and clichéd mantras, and that's what makes things better "Anyone who has ever reached something had a bad day," Douglas is told.
Meanwhile, (the character) Hawkins (actress Regina King, not given nearly enough to do), fights back against poverty, migraines, and divorce, as she raises four kids. "Poor is when you run out of hope," King is forced to say at one point.
While it's easy to joke about networks scourging for stories during the Olympics, seeking to turn the average into something greater as they try and fill air time and spur patriotism, Douglas' story is not only noteworthy, but remarkable.
There are indeed obstacles presented in the film, but there is one glaring omission: her race. There is barely a mention about that fact that Douglas is black, something that she herself admitted in an interview with Oprah Winfrey that set her apart from others. That is not to say this topic should transform the entire narrative, but especially since NBC and others has gaffed when talking about Douglas' race during the events, and it became much-talked about, it's hard not to notice its absence.
Nevertheless, we all know how things turns out in the end, even though one of Douglas' two gold medals is never really addressed – the one she earned as part of a team isn't part of this tale. Unfortunately, the addition of archival footage from Douglas' victory serves to remind you how disappointing and lackluster everything that came before was, as with the video we see briefly something more inspirational (despite the soundtrack).
Lighty, fluffy, safe and nothing more than nice, 'The Gabby Douglas Story' will fit in fine with forthcoming Olympics coverage, but following some more ambitious, or at least guiltily satisfying fare from Lifetime, its limitations and hesitations are clear and present. It's not that this could have been much more; it's that what we've been given has nothing to say, let alone anything to get the least bit excited about.
'The Gabby Douglas Story' premieres on Lifetime on Saturday, Feb. 1 at 8 p.m EST.