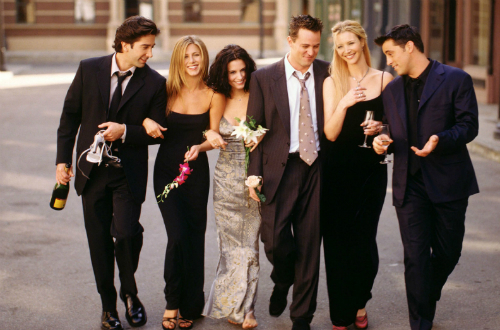 There is at least one out there for everyone. One TV character with whom we most identify; figures we hear say and do things that we ourselves have said and done. They make us laugh and reflect, and maybe even challenge us to take a look in the mirror.
At the very least, these special characters are ones we love to watch every chance we get. Just take 'Friends,' a show that distilled the six types of people out there and made us align ourselves to them -- or not, just wanted a picture of six friends to tenuously represent the writers we've collected here (I guess I'm Chandler?)
Thus, with that in mind, and in the guise of offering a way to better know the writers of TVRage, we present the characters to which we most relate, embrace, and adore – for better and worse.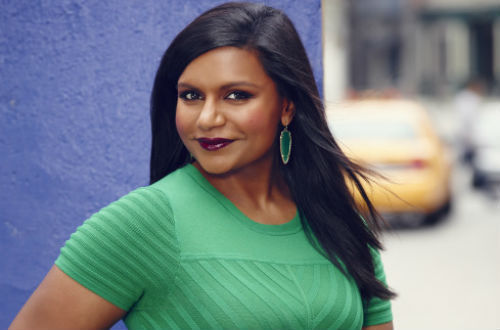 Allyson – Mindy Lahiri, 'The Mindy Project'
No, I don't deliver babies, nor do I make a spectacle of myself (unless I have several alcoholic beverages in hand), but that doesn't mean I'm not kindred spirits with my girl Mindy Lahiri from 'The Mindy Project.'
First, like Mindy, I too live vicariously through rom-coms, including 'When Harry Met Sally' and 'You've Got Mail' (fun fact: Chris Messina, who plays Danny Castellano and Mindy's love interest, was also in this).
As Mindy would say, "when am I going to have that perfect meet-cute?" We both want love, and we both want to find our other half. Is that too much to ask?
Moving on, she's witty, funny and sarcastic. Not to toot my own horn, but I also find myself funny and witty, or so I've been told. Just ask my friends: sarcasm is my BFF.
Lastly, Mindy is an independent, successful, strong, confident, unapologetic woman who stands up for her beliefs. Whether it's eating two or three plates of potato-chip pie, drinking from her wine bra, falling for the wrong guy(s) or hiring an ex-con, Mindy stands by her decisions, and can even admit when she's done wrong. For years, I've been told that I'm "too intimidating," because I'm an independent, single, successful and strong woman who doesn't put up with anyone's crap.
So like my other self, aka Mindy, I will never apologize for who I am, and I too can admit when I'm wrong. Now all I need is an official girls' night out with both Mindys (Lahiri and Kaling).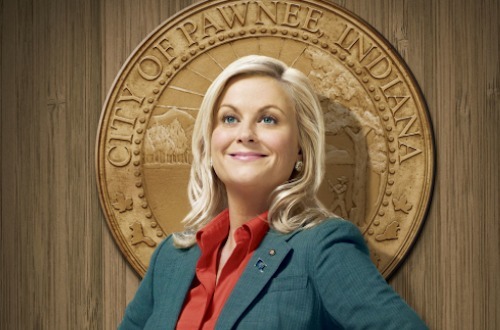 Kelly – Leslie Knope, 'Parks & Recreation'
Granted, no one can ever truly compare to the glorious wonder that is Leslie Knope, yet I can't help but feel a very strong kinship between this beloved Pawnee resident and myself.
For one thing, she's extremely passionate about everything she does, which is something I can totally relate to. I can't just ever like something or pursue something in a normal capacity. I OBSESS over it to an almost unhealthy level, whether it is in regards to an upcoming feature I'm writing for work or a new show that I've become addicted to. It will be all I'm able to talk/think about.
I mean, I call myself a "TV Junkie" for a reason. It's a legit problem, people!
Then there's Leslie's quirkiness. Creating a fake holiday called Galentine's Day, which centers on ladies celebrating ladies? (Uteruses before duderuses! Ovaries before brovaries!) I would TOTALLY do something like that. Ever since high school, my place was always considered the go-to party house and yes, there have definitely been themes. (You should've seen my M&Emmy party for — you guessed it — the Emmy Awards.) So yeah, obviously I'm a super cool person.
But most importantly, we both share a profound love for whipped cream and waffles. I mean, you really can't share a deeper connection than that, right? Well, other than our appreciation for a good vegetable pun. Nothing beets that.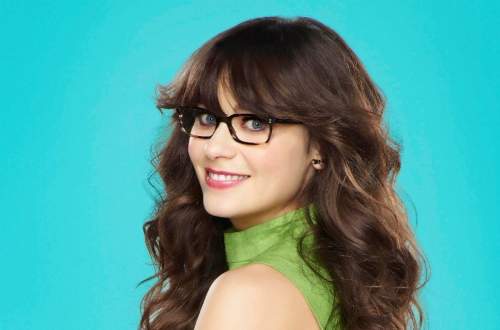 Rachel – Jess, 'New Girl'
Which character am I the most like? This was a hard one, because I don't often find a character that has enough qualities in them that mirror my own. I would like to chalk that up to me being a unique and special snowflake, but I think that I am a bit of a perfectionist and am afraid to admit that I might be most like some of the weirdest characters on television.
Although I am generally a normal gal, I do sometimes have some strange habits and quirky tendencies. I have been known to wear my fair share of flannel pajamas, make up songs on the spot and sing them to myself, cry over cute puppies and wear oversized glasses. I excel at arts and crafts and have a love for 'Dirty Dancing' that knows no bounds.
So for these reasons, and more, I think that I am most like Jess from 'New Girl.' "But Rachel, Jess is totally fun and awesome," you say. Yes, my friends, she is, but she also once put a melon inside of a sweater and pretended it was Nick because she was bored and didn't like being alone at the flat.
Jess is a sweet girl who is honest, reliable and emotional almost to a fault. She is also extremely gullible and has the tendency to be taken advantage of without even knowing it. Wait…that is pretty much exactly the way I would describe myself.
On top of all this, I can't count the times I have been called "adorable" by other members of the TVRage staff, so I think that a character played by Zooey Deschanel is a good fit.
Although, unlike Jess, I have a terrible singing voice and I am pretty bummed out about it. I don't own as many cute dresses and skirts as Jess, and I would be a terrible teacher, but all in all I think that Jess and I are cut from the same weird, yet still great, cloth.