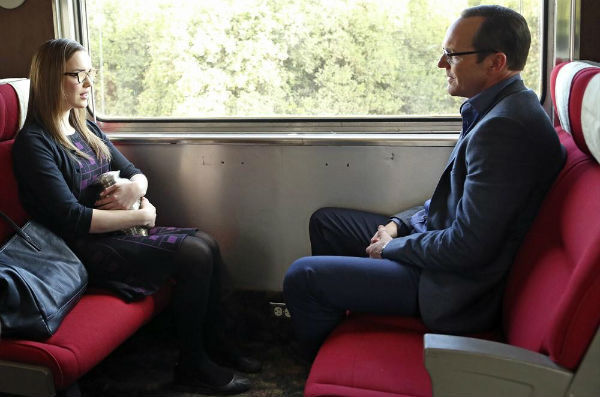 CBS won the night in all measures.
'NCIS' rose ever so slightly, earning a 3.1. 'NCIS: LA' followed that up by rising four tenths to a 2.8. 'Person of Interest' remained in its usual range, bumping up a smidge to a 2.1. A pre-Winter Olympics NBC special earned the Peacock an okay enough 1.4. The season finale of 'The Biggest Loser' was truly a mixed bag, rocketing up half a point from last week's 1.7., but coming in way down from last year's swan song.
'Marvel's Agents of S.H.I.E.L.D.' seems to have settled into a normal range, matching its last original episode's 2.2. 'The Goldbergs' crept upward a tad, scoring a 1.6. 'Trophy Wife' came in even with its last new outing's 0.9, and remains a goner. 'Killer Women' earned yet another 0.7, and is also a surefire candidate for the 2014 TV graveyard.
'Dads' started FOX's night by matching last week's 1.5. Unfortunately, neither 'New Girl' or 'Brooklyn Nine-Nine' received any type of post-'Super Bowl' boost. In fact, things went quite the oppostie way for both comedies. 'New Girl' fell three tenths to a 1.6., while 'Brooklyn Nine-Nine' dropped half a point to a 1.4. I'm not exactly sure what that says about their future prospects, but it obviously isn't good.
Finally, The CW's usually reliable team of 'The Originals' and Supernatural had an off week, with both posting notable drops. 'The Originals' dipped back down to a 0.9, while 'Supernatural' decreased two tenths to a 1.0. Both numbers are likely anomalies, but only next Tuesday's ratings will tell us for sure.
Key: Broadcast Network - Show Name - 18-49 Rating - 18-49 Share - Total Viewers In Millions
8PM
CBS - NCIS (N) - 3.1 - 9 - 19.53
ABC - Marvel's Agents of S.H.I.E.L.D. (N) - 2.2 - 6 - 6.62
FOX - Dads (N) - 1.5 - 4 - 3.73
NBC - Winter Gold: First Look at the Sochi Olympics (N) - 1.4 - 4 - 5.26
CW - The Originals (N) - 0.9 - 2 - 2.10
8:30PM
FOX - Brooklyn Nine-Nine (R) - 1.3 - 4 - 3.22
9PM
CBS - NCIS: Los Angeles - 2.8 - 8 - 16.30
NBC - The Biggest Loser (Season Finale) - 2.2 - 6 - 7.45
ABC - The Goldbergs (N) - 1.6 - 4 - 4.93
FOX - New Girl (N) - 1.6 - 4 - 3.48
CW - Supernatural (N) - 1.0 - 3 - 2.46
9:30PM
FOX - Brooklyn Nine-Nine (N) - 1.4 - 4 - 3.22
ABC - Trophy Wife (N) - 0.9 - 2 - 3.24
10PM
CBS - Person of Interest (N) - 2.1 - 6 - 12.35
ABC - Killer Women (N) - 0.7 - 2 - 3.12
Source: Nielsen Media Research