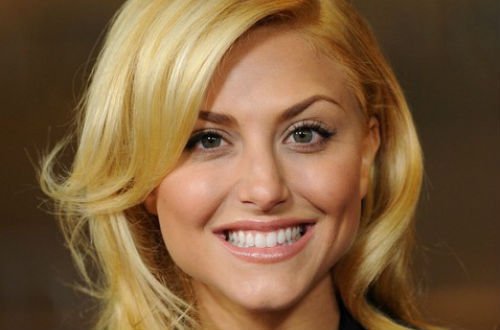 You might recognize Cassie Scerbo from ABC Family's former drama 'Make It or Break It,' where she played the catty blonde Lauren Tanner. Well, once again, she's embracing her snarky side in two upcoming episodes of ABC Family's hit comedy 'Baby Daddy.'
Fans of the comedy, and of Scerbo, will see the actress take on the role of Heather, Riley's (Chelsea Kane) friend/enemy from summer camp a long time ago. Despite many similarities between the characters of Lauren and Heather (aka they're both the "B-word"), Scerbo told TVRage during a recent conference call, "In this show ['Baby Daddy'], I'm playing a young attorney, and it is a little bit of an age difference and whatnot. It's a comedy opposed to a drama, but it's just another one of those fun, catty characters that you just can't help but to hate."
Scerbo definitely had fun with the character who she said "just comes in right off the bat super snarky. It's just one of those girls you're like 'Ugh, I can't stand you!' (laughs)."
While we have Scerbo's mean girl side to look forward to, there's more than meets the eye with the young actress. She's nothing like her characters and is even a youth ambassador for an anti-bullying organization.
Earlier this week, I was lucky enough to speak with Scerbo -- again -- and during a one-on-one chat, where we discussed once again her 'Baby Daddy' character, what it's like to play the snarky blonde repeatedly, and what others can learn from her characters.
TVRage: For those who don't know, can you provide some details on your 'Baby Daddy' character and the two episodes you'll be starring in?

Cassie Scerbo: I play Heather, and she is Riley's, who's played by Chelsea Kane, she is her frenemy from summer camp back in the day. And, Heather was always that one annoying girl that was just a little bit better [than] Riley in everything. They always had this very competitive friendship. Here it is, years and years and years later, and they meet up in New York City and Riley's so excited, because she has her life together, she's this young attorney, and Heather comes right back in the picture and kind of just brings a ton of drama to the table. She basically shows she hasn't changed at all since she was probably 10 years old. Once again, they're back in this competitive situation, and basically my character's just there to cause a lot of problems for Riley.
TVRage: Now, you're known for playing the pretty blonde who's snarky. Do you enjoy playing that type of character?

Scerbo: It's so funny -- I feel like that's always a question asked. I'm like, "I know, it's so terrible. I do. I always play these snarky, mean, very, very mean girls!" To be completely honest though, yes, it's such a fun character to play. There's so many layers, and I feel like, not necessarily with this character [Heather], but in general, when you play the bad girl there's usually a reason why people are the way they are. No one's just a complete and total bad girl (I don't want to say the B-word). It's fun, because you get to create a backstory and there's a lot of layers, especially for Lauren. But, with Heather in 'Baby Daddy,' she's a straight up snarky, catty chick. It was really fun to play. I definitely like to switch it up. I had a really fun time playing that character. It's all about stepping out of the box and having fun.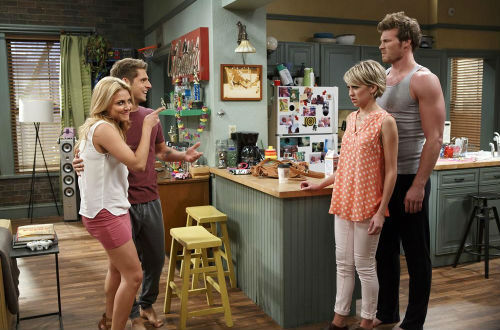 TVRage: As a young, talented actress, you're a role model. Do you think young girls can relate to the type of role you usually portray? Or, what do you hope they can learn from your characters?

Scerbo: Yes, it's so funny, because I'm a youth ambassador [for] an anti-bullying organization. I do a lot of charity work … and I always play the bullies, so it's kind of ironic. I always tell everybody that getting to play the bully -- it's shown me life behind their eyes and where they're coming from, and if it can help anybody at all ... Especially when I was playing Lauren, nobody's just a bully for no reason, usually they have problems and situations going on in their own life.
What I've gotten from it is if anyone is ever getting bullied, just know that it's their [the bully] own insecurities being taken out on you. And, if anything, you just wish that person well and move on. I've always said "every challenge makes us stronger," and I think it goes to show, because a lot of the times whenever I am bullying a character, the other character I feel usually comes out on top, or my character usually ends up apologizing. There's a lot of things to learn from playing this character and a lot of things to teach young girls. Like I said, if there's anything, it's the bully is the insecure person and to just not take anything they say to heart. Nothing outside of you can affect you, unless you let it. You gotta close your ears off and not listen to it.
TVRage: You've starred in several projects that you're known for, including 'Make It or Break It' and 'Sharknado,' and now 'Baby Daddy.' Do you prefer one genre, say comedy or drama, over another?

Scerbo: I really like to dabble in everything. I feel like being an actor we would get bored if we acted in the same genre all the time. It's so much fun to get to explore different characters and tell stories and that's why we do what we do. It's amazing to me, because every character you take on, even though I've played a broad range of mean girls, they're all so different [and] different types of mean girls. It's interesting with every character to create a backstory. There's not really a specific genre I prefer. For me, it's all about the script and the material and if I can create something fun and entertaining, or something that people can either smile at, or learn from, or whatever it may be, that's really what I look for.
TVRage: Back to 'Baby Daddy,' wow was it working with the cast, because they seem super close, and also look like they have a blast on set?

Scerbo: It's so funny, because everybody says that. Everyone's like, "They seem so fun!" And, it's so true, they are so fun. That's why you can see that in their interviews, I'm sure, and in general, and in their chemistry on set. They are the most fun cast I've ever worked with, by far. When I walked on set it was just one big family. They're all so sweet. They were so welcoming. It wasn't one of those things where you walk on set, you know, you're playing a recurring character or a guest-star, and you feel a little out of place. They just made you feel like you're a part of the cast. It was an amazing two weeks. I remain friends with all of them. I actually knew Chelsea [Kane] prior to shooting, so that was so much fun for me to get to work with her, because we were friends before. I honestly had such a blast. It was so much fun. They're amazing.
TVRage: Lastly, if you were invited back for another guest spot, or possibly to even recur, on 'Baby Daddy' would you go back?

Scerbo: Oh my gosh, yes! … For me, I was on a drama for so long, an hour drama, and it's so different than doing a half-hour. Just being in front of a live audience is such an adrenaline rush. It was so much fun for me. I would definitely come back on and try to, maybe, stir up some more trouble for whoever. It was a lot of fun for me, and I simply love the cast. So, I don't see how I could say no.
You can catch Scerbo's guest 'Baby Daddy' appearances on Wednesday, Feb. 26 and Wednesday, March 5 at 8:30/7:30c on ABC Family.