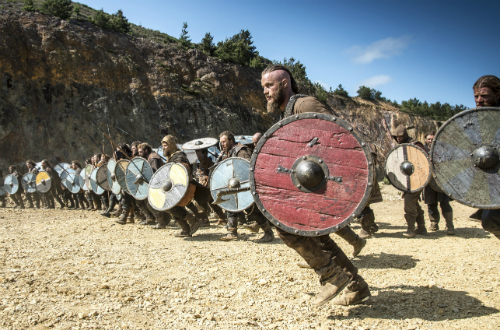 At nine episodes, the first season of History's period drama 'Vikings' can be described as, among other things, efficient.
It was as well, exceptionally violent and gross.
So for Season 2, it should come as no surprise that not only does the premiere start with a major battle almost instantly, one that has only been stewing the minds of fans since we last left our heroes. What's more, of course, it's filled with blood and tragic death.
Yes, Ragnar and Rollo face off, in what still is a somewhat head-scratching move, at least one notable character falls victim to violence, while another is seriously, viciously wounded. It's a whirlwind of tension and excitement that 'Vikings' has cultivated over its first nine episodes, failing to obey any standard practices of climaxes and pacing. The feud that seemed so latent for so long between Rollo and Ragnar, the one that came to the surface right at the end of Season 1, is now erupting as the second season starts.
It's a strange battle that speaks to the times, however. For the faithful viewer, it's seems so bizarre in the storyline but convenient for writers to plot brother against brother. This battle, still, seems too sudden. We have been given 10 months to try to understand it, but as the ever-brilliant and loveable Floki points out at the start, "Who needs a reason for betrayal?"
It's justified the arc, but in this ephemeral world where anarchy is so close to tyranny, and death looms everywhere, it makes sense. Floki adds to his wisdom with a bit that likely resonant with some today.
"One might always think the worst, that way you avoid too much disappointment in life."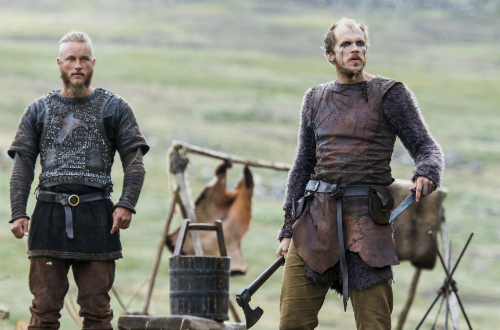 While there is a very real battle to start the episode, one where the weapons are wrought with steel and victory is determined with bloodshed, another one is waged later on back home. This one however, is more covert, using wicked tongues and solemn vows to spear and wound; the effects too might be more long lasting and painful.
Both instances revolve around Ragnar, who remains most peculiar, as his infantile naievete and impractical idealism are so overtly showcased. Firstly, he insists on his brother's better angels as he bemoans the necessity of not only battling fellow Vikings, but doing so over land when there is more to the east to be raided and captured.
The most fascinating moment, however, comes later on, when he is forced to deal with the repercussions of his love affair with Princess Aslaug. She is with child, and in a scene right out of any sitcom, she arrives unexpectedly, putting Ragnar and Lagertha in an awkward situation.
With the trio together, 'Vikings' hits its peak – not with war, but wandering eyes and darting glances. Here is a princess carrying the child of Ragnar, sitting next to Ragnar's wife, a woman who lost their child during birth. With the death of their daughter Gyda due to the black plague at the end of Season 1, the ties between Lagertha and Ragnar are dangerously tenuous.
It's almost as if Ragnar regresses, though, in the way he tries to reconcile all that has happened. Last season we saw him struggle with his urges while trying to placate his son. Now, he faces his wife, and it's yet another moment where a show set over 1,000 years in the past seems to echo modern day discussions.
The scene becomes almost silly at times, and it would be funny were it not involving Ragnar and Lagertha, two most fascinating figures. The battle in the field resolves itself, but there is a new drama at home, and this story looks to be more unpredictable, and maybe with more casualties and divisions.
There is not a weak character in the bunch, and set against the backdrop of 10th century Scandanavia, familial drama is more compelling. As was the case in the first season, and as seems to remain true into the second, there is no time to pause and reflect – there is only decisive, instant action.
'Vikings' Season 2 starts on Thursday, February 27 at 10/9c on History.