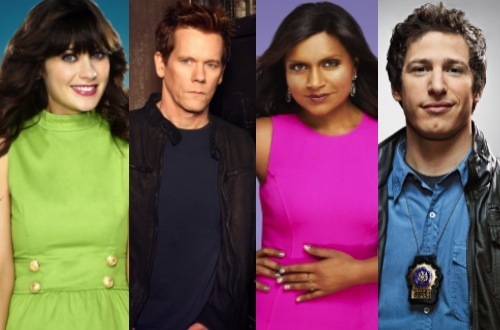 Douchebag jars for everybody!
There are several reasons to be excited about today. For one, it's Friday, which means I get to catch up on some serious one-on-one time with my Netflix account. For another, it's the day FOX announced that it was granting early pick-ups to four of its beloved shows.
'New Girl,' 'The Mindy Project,' and 'Brooklyn Nine-Nine' will all live to see another season, as will the network's Kevin Bacon-fronted thriller 'The Following.' (Further proof that everybody loves Bacon, food or otherwise.)
This marks 'New Girl's fourth season run, followed closely behind by 'Mindy' and 'The Following,' who both earned a third season installment apiece. Meanwhile, freshman series 'Brooklyn Nine-Nine' will be back for its sophomore year.
However, this news — as exciting as it is — shouldn't come as much of a surprise to most viewers, given the rather extensive fanbase that exists throughout all four shows. And let's not forget that 'Brooklyn' took home a top prize at the Golden Globes back in January, winning the award for Best TV Series, Musical or Comedy.
"These shows are some of the best and acclaimed series on television, with influential, culture-driving stars, and some of the best, most creative talent behind the camera," FOX bosses Kevin Reilly and Joe Earley said in a joint statement. "All four are core assets within our 2014-15 portfolio of content, and we're really happy to bring them back to our FOX fans for another season."
Previously, 'Bones' was picked up for a tenth season, with 'Sleepy Hollow' and 'Glee' also set to return for a second and sixth season, respectively. As of now, the fates of drama series 'Almost Human' and comedies 'Dads,' 'Raising Hope,' and 'Enlisted' remain undecided.