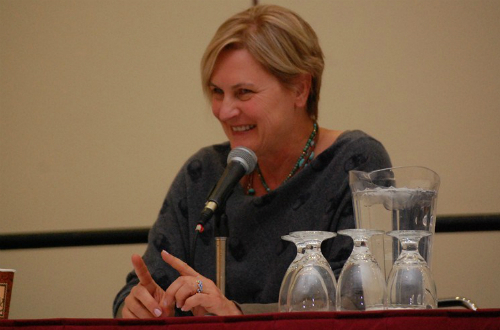 "You're all freaks!" announced Denise Crosby to adoring fans as she took a seat at Toronto ComiCon Friday night. She certainly would know – and meant it in the most affectionate and humble of ways.
The actress who assumed the role of Lieutenant Tasha Yar on 'Star Trek: The Next Generation,' and would later create a pair of documentaries called 'Trekkies,' embraces the fanatical spirit of loyal followers of the 'Star Trek' realm.
"It's very moving and touching and so we have this sort of symbiotic relationship that has been unique with Star Trek," said of the continued love and devotion of fans. 'TNG' ended its seven year run in 1994, and Crosby herself didn't have the lengthiest of roles (leaving after the first season only to return in brief appearances later on), yet passion for the show endures. "Who's to say what's weird? We're all weird. And the whole thing is to embrace it, and just be who you are."
Yes, it's not really a ComiCon unless the 'Star Trek' faithful are out. Many braved a cold night and the myriad fan questions had Crosby reminiscing and sharing juicy stories – she of all people know why fans pay money and dress up and spend days at such events. And she did not disappoint.
Before taking fans to the past, Crosby talked about the latest iteration of 'Star Trek,' which comes, of course, on the big screen having been rebooted under the vision of director J.J. Abrams. Crosby happened upon Abrams on afternoon, she recalled, as their respective children just so happened to be competing in a baseball game.
"I'm not going to go up and introduce myself, the guy is here watching his kid play baseball," she remembered thinking. "Only in Hollywood does this happen. A little time when on, I saw him wandering around, and I finally got the courage to go up to him."
Crosby said hello, but she apparently needed no introduction. "'Oh my god, I love Trekkies! Of course I know who you are,'" Crosby explained Abrams' reaction. "We had this great conversation. I was so delighted he knew 'Trekkies' and he was asking me all about conventions and should he go to one and what was it like."
"Then he said: 'we're just beginning to toy around with ideas for the next movie, I'd really like for you to do a part if you want.'" Crosby paused, smirked, and said, "And then I never heard from him again."
The audience laughed, and whether or not Crosby might get a quick cameo in whatever comes next for 'Star Trek' remains to be seen, but she sure was full of stories from 'TNG.'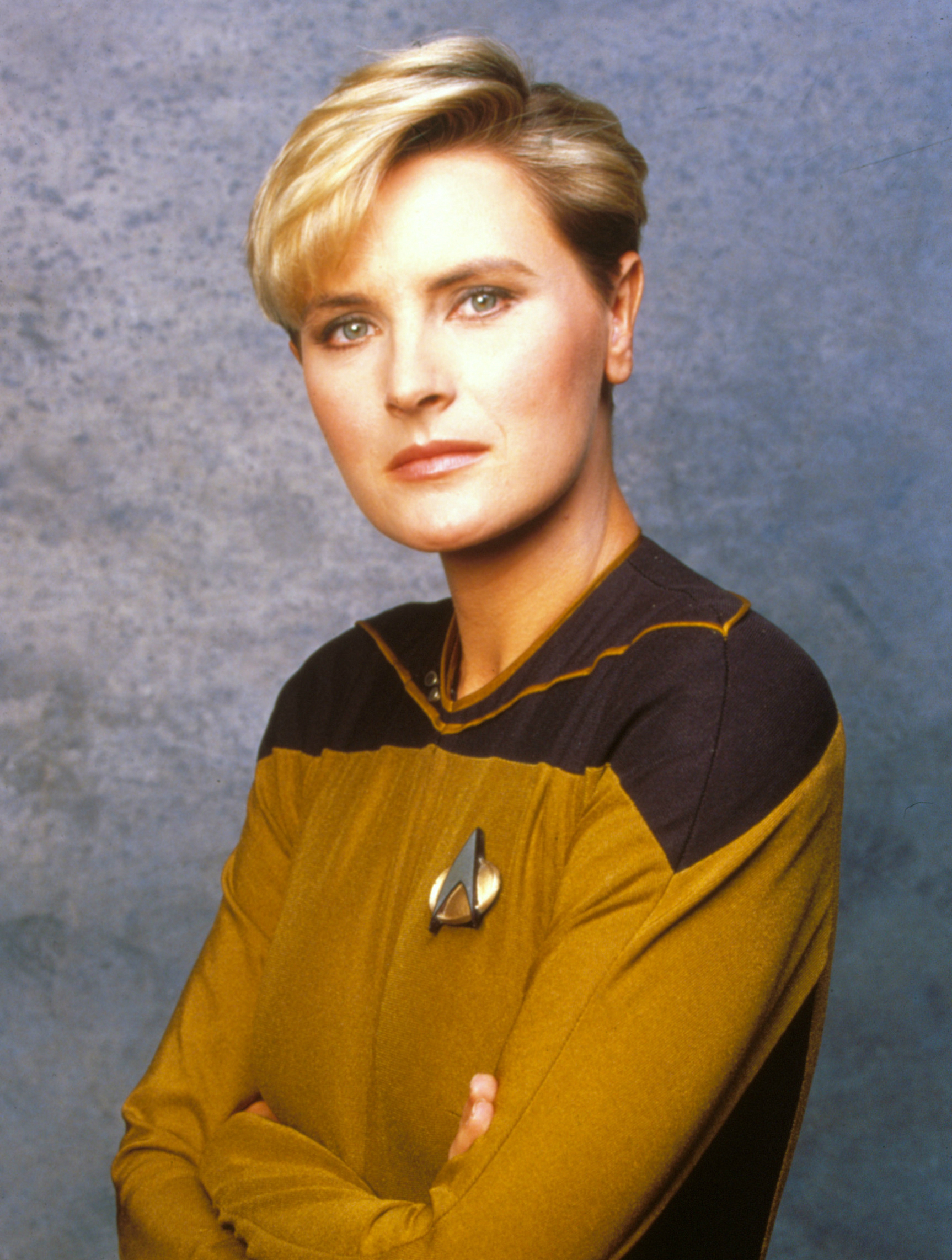 "We were the weird step child of Paramount studios," explained Crosby of the show during its onset. "I used to steal food from the set of 'Cheers' and bring it over to the set of 'TNG' during the first season. We were working these 12 hour days. 'Cheers' was rocking at that time, they had all the good stuff -- we had the crap leftover."
The long days and busy schedule – 'TNG' was doing 26 episodes a season – forced the cast to become a family, and for the most part, all these disparate actors from different backgrounds became especially close, for the most part.
"We all pretty much gelled right off the bat, except Patrick [Stewart]. He was still very, very serious. He was not quite getting the sense of humor that the whole rest of the gang sort of have, especially Jonathan [Frakes]." Crosby didn't pause for a moment before sharing her next memory. Because of Frakes' incessant joking, Crosby said "on number of occasions, I had to change my uniform from wetting it. We had to stop filming as I had wet my uniform. And he knew he could get me. "
So while they had later become embraced by fans, having come together quickly as a cast (Stewart came around eventually, Crosby said), there were still some difficulties on set, and sometimes they weren't too sure what they were doing was healthy and safe.
"Every planet in the galaxy is smoky, by the way," Crosby joked in talking about all the "traveling" to different worlds; she and the others would call these sets Planet Hell. "They would smoke up the place, but they were using some kind of oil-based chemical. After about seven episodes of being smoked by oil, we were coughing, getting bronchitis, and saying 'you gotta change it.'"
According to Crosby, it was so bad that whatever they were employing was in fact banned. "They can't use it anymore, so all the actors that came after: we took a bullet for you."
There wasn't just smoke, but other uncomfortable instances on set. Crosby joked about one particular awkward moment, having just signed up for the show, one that happened to be her first regular part on a series. "They just poured wax on me," she recalled thinking during one scene. "I should not have taken this job."