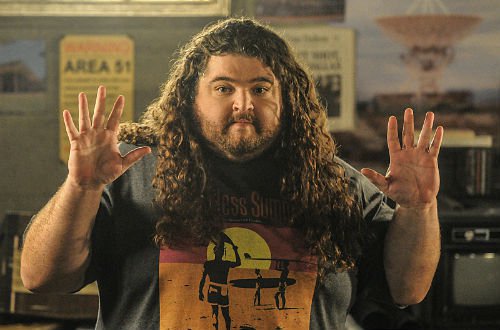 Jorge Garcia isn't "lost" anymore, as he's just been welcomed to the 'Hawaii Five-0' family as a series regular.
As first reported by The Hollywood Reporter, Garcia's two-episode stint has turned into a full-time gig. He won't become a regular until the fifth season, which was just announced, along with 17 other CBS shows.
Garcia plays conspiracy theorist Jerry Ortega, who's helped Steve McGarrett (Alex O'Loughlin), Danny (Scott Caan), Catherine (Michelle Borth), Kono (Grace Park) and fellow 'Lost' castmate Chin (Daniel Dae Kim) solve cases and put criminals behind bars.
Not only is Jerry a former classmate of Chin, but as we saw last episode, he is now Steve's roomie. With Jerry being frightened that the Chinese government will hunt him down, it only makes sense to move in with a former Navy SEAL, right? We'll have to wait and see if this will become a permanent living arrangement.
"Jorge very quickly made Jerry an unlikely and valuable part of the 'Five-0' Ohana," exec-producer Peter Lenkov revealed to THR. "We have many opportunities planned to put Jerry's unusual and infectious desire to put the bad guys to good use."
This brings Garcia back to his "homeland" of Hawaii, where 'Lost' filmed for six seasons and he played Hurley. He isn't the first 'Lost' alum to pop up on 'Five-0,' as we've seen Terry O'Quinn, Henry Ian Cusick, Tania Raymonde, Cynthia Watros and Sam Anderson.