In addition to all of the other news we've been reporting, here are a few entertainment and TV headlines you might have missed: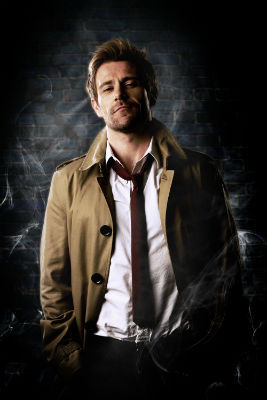 -The first image (left) of Matt Ryan in NBC's drama pilot 'Constantine' is here. Based on the characters in DC Comics' John Constantine stories, the Warner Bros.-produced project follows Ryan as Constantine, con man-turned-reluctant supernatural detective who is forced into the world of defending against the dark forces from beyond.
-FX's hit comedy 'Louie' is returning for its fourth season on May 5 with back-to-back new episodes. The series stars Louis C.K., who also acts as creator, director and writer.
-Showtime has ordered its first new drama of the year, entitled 'Billions.' From 'Squawk Box's Andrew Ross Sorkin, Brian Koppelman and David Levien, the pilot is said to follow the collision and collusion between an aggressive U.S. attorney in New York and some of the richest hedge fund billionaires in the country.
-According to TheWrap, Albert Tsai ('Trophy Wife') will guest-star in 'Hot in Cleveland's upcoming live premiere on Wednesday, March 26 at 10/9c on TV Land. He'll play Jimmy, a young boy scout helping Betty White's Elka.
-Like 'Hot in Cleveland,' Cedric the Entertainer and Niecy Nash's 'The Soul Man' will also premiere live, but as The Hollywood Reporter reports, its Season 3 opener has earned a multi-network simulcast. BET and Centric will simulcast the March 26 premiere live at 10:30/9:30c.
-Minkus is reuniting with Cory (Ben Savage) and Topanga (Danielle Fishel)! As first reported by E! News, Lee Norris will reprise his role as Minkus in Disney Channel's 'Girl Meets World.' His episode will debut this summer.
-HBO's untitled rock 'n' roll drama from Mick Jagger and Martin Scorsese has cast Juno Temple ('Maleficent') in the role of Jamie Vine, an ambitious assistant in the A&R Department of American Century. The series, also starring Olivia Wilde and Bobby Cannavale, explores the drug and sex-fueled music business as punk and disco were breaking out.