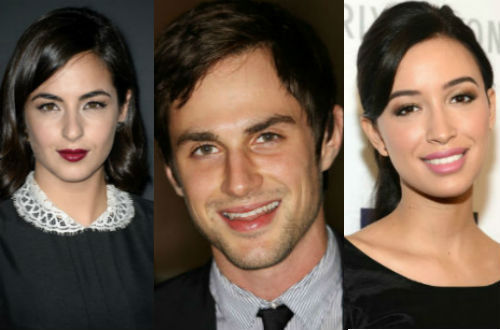 In addition to all of the other news we've been reporting, here are a few entertainment and TV headlines you might have missed:
-Even though 'The Walking Dead' Season 4 finale recently aired, that isn't stopping the AMC show from promoting three of its cast members. Alanna Masterson (Tara), Andrew J. West (Gareth) and Christian Serratos (Rosita) will all be full series regulars next season.
-In more AMC news, check out the trailer for its new series 'Halt and Catch Fire.' Set in the early 1980s, the show focuses on the computer boom through three men: visionary Joe (Lee Pace), engineer Gordon (Scoot McNairy) and prodigy Cameron (Mackenzie Davis). It premieres June 1.
-USA's summer series 'Royal Pains' is welcoming 'Numb3rs' alum Diane Farr in a guest starring role, TVGuide.com reports. In the fourth episode, Farr will show up as Annie, a private investigator suffering from a mysterious illness. It looks like she'll also have some scenes with HankMend's new head doctor Jeremiah Sacani (Ben Shenkman).
-Who's ready to go on tour with ABC's 'Nashville'? Some of the cast (Charles Esten, Chris Carmack, Clare Bowen, Jonathan Jackson and Sam Palladio) will perform live in a three-date concert tour. Cities include Chicago, Washington D.C. and New York City (Will Chase will pop up for the Big Apple date). Tickets go on sale Friday, April 4.
-The legendary Richard Dreyfuss is joining TBS' comedy pilot 'Your Family or Mine,' Deadline reports. In the family comedy which alternates between the two families of a married couple (Kyle Howard and Kat Foster), Dreyfuss will play father to Oliver (Howard) and husband to JoBeth Williams' character.
-BBC's 'The Voice UK' will return, as the network recently gave the singing competition an order of two more seasons.