Class is in session!
If you're looking for a fluffy, family-oriented, run-of-the-mill sitcom to sit down and watch with your kids after dinner…then 'Bad Teacher' is most definitely not what you're looking for. Full of sharp, edgy, and (albeit) slightly inappropriate humor, this CBS series offers up tons of adult-oriented comedy (which is ironic since most of the scenes take place in a school) as well as a few very valuable life lessons on the side.
Enter Meredith Davis (played by Ari Graynor): a beautiful former trophy wife, who finds herself penniless after her wealthy husband leaves her with absolutely nothing thanks to a bad pre-nup. Newly single and broke, Meredith soon hatches a plan — courtesy of her friend's stepdaughter, Lily (Sara Rodier) — to pose as a middle school social studies teacher, so she can find a rich dad to marry and return to the lavish lifestyle she's grown so accustomed.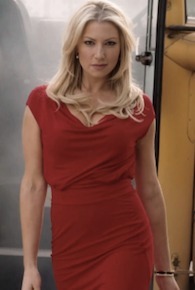 But just like with any other perfect plan, things are bound to get off track. Though getting the actual job may have been unrealistically easy — thanks in large part to the fairly clueless Principal Carl Gaines (David Alan Grier) — Meredith soon finds herself accidentally caring about the job and the kids themselves. In fact, she even declines a weekend away with a hot dad in order to be there for Lily, who gets bullied by some of her classmates.
It's unprecedented and certainly not what Meredith had originally signed up for, but it's that layer of selflessness that could prove to be her most redeeming quality. Think of it like 'School of Rock' without the music.
Granted, this one incident isn't enough to completely derail Meredith from the initial goal of bagging a new man. (Miracle transformations don't just happen overnight!) But it's evident that the students won't be the only ones doing the learning around that school.
The same can be said about the rest of the faculty. There's the attractive gym teacher, Joel (Ryan Hansen), the nerdy, introverted sidekick, Irene (Sara Gilbert), and the uptight, know-it-all, Ginny (Kristin Davis), who immediately establishes herself as Meredith's main nemesis. These budding relationships are messy and far from perfect, but both sides have something to offer each other. (Also, is it too early to start shipping Joel and Meredith? Team Joeredith!)
With a solid cast like this, it's hard to say what viewers will enjoy more: the dynamic between Meredith and her students or Meredith and her co-workers. Thankfully, we can most likely expect equal amounts of both.
Naturally, there are a few things some people may have a problem with: female objectification, for one. Meredith's physique is constantly brought to everyone's attention, making it seem like her looks are all that really matters. And, of course, there's the entire concept of Meredith feeling like she needs a man and his money in order to be happy. (Male gender: 1 Feminism: 0)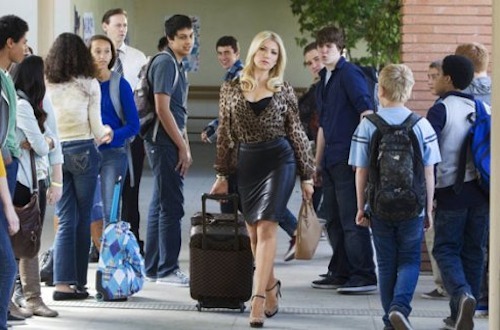 Could this show easily be considered offensive? Definitely. But that's exactly what it's aiming to do. It's sarcastic and bold, but still has an underlying current of moral guidelines. Meredith's interactions with the children are much more endearing than Cameron Diaz's Elizabeth Halsey from the 2011 movie of the same name. She may be self-centered at times and have absolutely no filter when it comes to saying crude things around youngsters, but throughout even just this one episode, you can see deep down she also has a genuinely good heart that will (hopefully) become even more prominent as the job continues.
So don't let these initial speed bumps keep you from giving the series a try. Just like Meredith herself, the show needs time to grow into its own unique element. Character backgrounds need to be established. Storylines need to be harnessed. And with a little extra TLC, I think 'Bad Teacher' could quickly become one of our favorite subjects on CBS.
'Bad Teacher' premieres Thursday, April 24 at 9:30/8:30c on CBS.