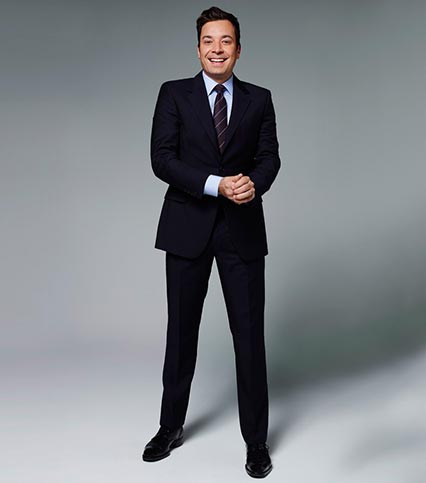 Host, played by Jimmy Fallon

---
Emmy Award and Grammy Award winner Jimmy Fallon brought NBC's "The Tonight Show" back to its New York origins when he launched "The Tonight Show Starring Jimmy Fallon" from Rockefeller Center. Fallon puts his own stamp on the storied NBC late-night franchise with his unique comedic wit, on-point pop culture awareness, welcoming style and impeccable taste in music with the award-winning house band, The Roots.

Fallon began his TV career with "Saturday Night Live" in 1998, where he quickly became an audience favorite. Known for his spot-on impressions, hilarious sketches and his stint with Tina Fey as co-anchor of "Weekend Update," Fallon spent six successful years on the show. In March 2009, he returned to NBC and took over the "Late Night" legacy with "Late Night with Jimmy Fallon," a show that consistently garnered attention for its viral videos, celebrity games and A-list guests.

Since the show's 2009 debut, Fallon and the "Late Night" team have earned much acclaim, including three consecutive Emmy nominations for outstanding variety series (2011-13). "Late Night" received a nomination for best talk show at the 2013 Critics' Choice Television Awards, having won the category in 2012. In 2013, Fallon was honored with his second consecutive People's Choice Award for favorite late-night talk show host and received a nomination in the same category for the 2014 event. Fallon and the "Late Night" writing team received an Emmy nomination for outstanding writing for a variety, music or comedy series in 2011. He won an Emmy in 2010 for the show's website in the interactive media category and received the Webby Person of the Year Award in 2009. Fallon has also been recognized with several nominations at the Teen Choice Awards throughout his career.

In May 2011, Fallon and the writers of "Late Night" released the New York Times best-seller "Thank You Notes," based on the popular show segment in which he addresses more than 150 subjects in need of his undying gratitude. "Thank You Notes 2," published in May 2012, hit the No. 1 spot on the New York Times best-seller list in its first week on sale. On June 12, 2012, Warner Bros. Records released "Blow Your Pants Off," a musical comedy album featuring Fallon's collaborations with Paul McCartney, Bruce Springsteen, Dave Matthews, Justin Timberlake and more. The album debuted at No. 1 on Billboard's comedy album chart and won the 2013 Grammy for best comedy album.

Additionally, Fallon returned to his "Saturday Night Live" roots when he hosted both the 2013 and 2011 Christmas episodes of the legendary sketch comedy show to widespread critical praise. His first "SNL" hosting effort earned him a 2012 Emmy Award for outstanding guest actor in a comedy series. He also received rave reviews for his stint hosting the 2010 Primetime Emmy Awards. Most notably, he opened the show with a star-studded performance of Bruce Springsteen's "Born to Run."

Fallon and his wife, Nancy, live in New York with daughter Winnie Rose and the family's female golden retriever, Gary Frick.
Announcer, played by Steve Higgins

---
Steve Higgins is the announcer for "The Tonight Show Starring Jimmy Fallon." He was previously the announcer for the entire run of "Late Night with Jimmy Fallon" where he introduced sketches, participated in celebrity games and took on memorable roles in the show's celebrated Digital Originals, including "Joking Bad" and "The Real Housewives of Late Night."

Higgins is also a longtime producer and writer for "Saturday Night Live." His work on SNL episodes and specials has garnered an Emmy Award and 20 additional nominations, as well as five Writers Guild Awards. He is also Emmy-nominated for his contribution to the 2009 ESPY Awards.

Higgins was previously a writer, producer and cast member for the comedy show "The Higgins Boys and Gruber," a cable television show that aired weekday afternoons on The Comedy Channel from 1989 to 1991. He was also the head writer for "The Jon Stewart Show" from 1993 to 1995.

Higgins lives in New Jersey with his family.
House Band, played by The Roots

---
Named one of the greatest live bands around by Rolling Stone magazine, the legendary Roots Crew has become one of the best known and most respected hip-hop acts in the business, winning four Grammys over the course of the group's career. The ensemble most recently received a "Best Rap Album" nomination for its last studio release, "undun," which brings its Grammy nomination count to 12. Additionally, The Roots has become the face of Philly's "Fourth of July Jam," an annual concert held during the holiday weekend featuring some of the biggest names in music, and "The Roots Picnic," a yearly star-studded mix of musicians that has become a celebrated institution during summer festival season. The Roots is also the official house band on The Tonight Show Starring Jimmy Fallon where Questlove also serves as the show's Musical Director.