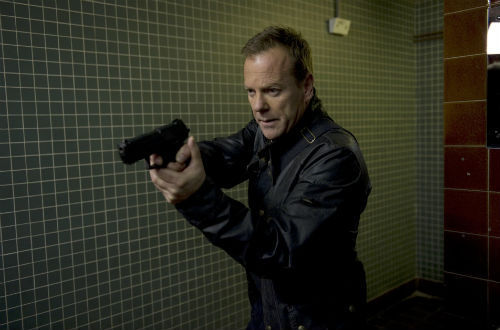 And on the ninth day, Jack Bauer resurfaced.
After four years away and perhaps a void of geopolitical thrillers ingrained with violence and no-apologies patriotism, FOX returns with a limited series '24: Live Another Day' ('Almost Human' is canceled, but Bauer is super-human). Bringing back characters from the once-revelatory series while introducing new ones, the 12-episode, real-time event fleshes out a newsworthy story while incorporating all the same action and one-man-army heroics the series championed for eight season (days).
For the past four years (or if you prefer, about 35,063 hours), Bauer has been hiding away, only to make an appearance when his confidante and accomplice Chloe O'Brian is captured for helping fugitive Bauer. He's isn't on the run here though, for as when our clocks starts ticking, a hoodied Bauer is pretty promptly captured as well.
RELATED NEWS: Jack Is Back: Kiefer Sutherland on '24: Live Another Day,' Reuniting With Jack Bauer 
What's more, we're also in London, a world capital that just so happens to be hosting the President of the United States James Heller (William Devane). The former Secretary of Defense has earned a promotion, but it is readily apparent that he is hiding something from the American public, shades of Josiah Bartlett. His daughter Audrey (Kim Raver) is working by his side, and when her husband, Mark Boudreau (Tate Donovan), who's also Heller's Chief of Staff, finds out that her former flame and all around danger-magnet Bauer is in the same city, he's gets mighty irate – he'd rather not go down that road again.
So they are all likely in trouble, as are many, many others.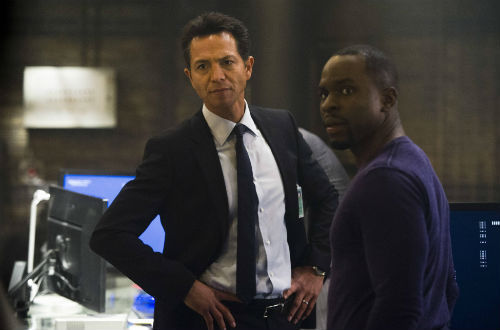 While there are these noteworthy returning characters, it certainly has the feel of a story that can easily appeal to new viewers as well; judicious use of exposition helps brings us up to the present, casually alluding to or simply reminding of the past.
The signature template in full effect: it comes complete with that ticking clock running through commercials. We've again plenty of split screens with characters nervously looking and walking around while not in full frame.
And it still works. It's not novel, and can never be again, which undoubtedly puts the pressure on the story. Having not been around for four years lifts some malaise, and so does too changing the setting. It's clear from the first two episodes, (which will air back-to-back) the dust has indeed been shaken off.
While Bauer is being brought in, President Heller is caught up with a fierce debate about drones, seeing his position weaken by the moment.
Thus, it's a story about drones, privacy, hack-tivism, foreign policy, but it's mostly about Jack Bauer being the hyperbolic American action hero. He is now a very real export – for decades, British super agent James Bond would span the globe, often stopping in America to save the day. Now, another gun-toting tour de force, a man with whom Bond could share monogrammed towels, is venturing across the Atlantic to foil a complex terrorist plot ('Live Another Day,' as opposed to James Bond in 'Die Another Day,' perhaps).
Then again, if we're trumpeting this American hero, we have to note he is being played by a British actor. With that in mind, there are surely those that will look to grab at the loose straws of '24' that endorse one political side or another. It's even harder now to see the show as controversial, but I suppose some will see what they want to see.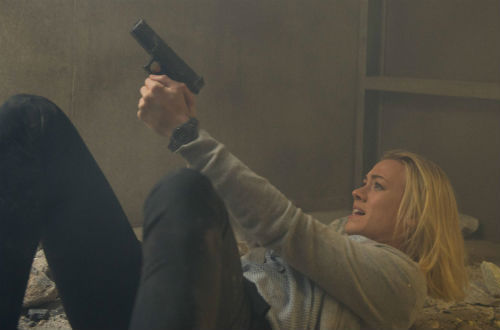 Nevertheless, Bauer makes quite the entrance. He is the target as we get underway, and while he shows off his physical prowess, we've not a word uttered by Bauer, even as he is taken in and questioned. The mysteries of the first half hour get sorted out rather quickly, and by the end of the episode, we've fresh new questions and concerns.
Among those which will slowly come into view is the case of Agent Kate Morgan (Yvonne Strahovski). She assumes the role of the beautiful and bright agent whose former qualities obstruct the latter when it comes to getting male superiors to respect her; Benjamin Bratt's C.I.A. head Steve Navarro is more receptive, but Gbenga Akinnagbe's Agent Erik Ritter is having none of it.
RELATED NEWS: FOX Announces Spring Finale and Summer Premiere Dates
Morgan seems to be the only one surprised by the fact that Bauer was so easily caught, yet because she is cleaning out her desk by the end of the week (for reasons we come to learn later), she is dismissed.
It's a man's world. O'Brian is trapped, so Bauer needs to save her, while Morgan, the only one questioning the world around her and not convinced that Bauer's doings are so black and white, goes at it alone and gets in trouble for getting it right.
What '24' did right for some time still works. With 12 hours instead of 24 to kill, so to speak (12 episodes that is, a number that in the last four years most shows have gotten around to ordering), it's already apparent that each hour is more efficiently and entertainingly told (there will be hours skipped between episodes, as it were).
It's a solid tangled mess of mystery and tension, even if this is an exaggerated world. Ultimately, it's fun to have a reliable action star refreshed back on the small screen. The problem can only truly be saved by one man; he may not be the hero we need, but he is the one we want.
--
'24: Live Another Day' airs Mondays at 9/8c on FOX.