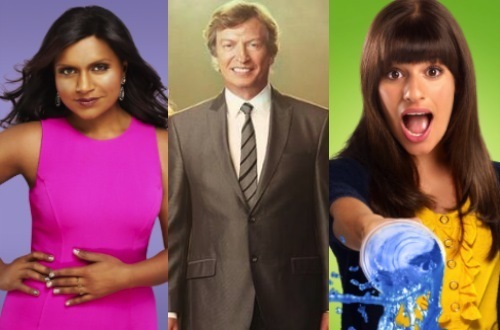 Following in the footsteps of its fellow networks ABC, CBS, NBC, and The CW, FOX has finally decided to hop on the scheduling bandwagon by announcing a slew of spring finale and summer premiere dates for many of its most beloved shows.
While some shows like 'Glee' and 'The Following' are preparing to wrap up for the season, others are gearing up to make their grand summer debut. (Jack Bauer sends his regards!) So don't get too sad for the seasonal shift. After all, when one TV door closes, another one is bound to open.
So bust out those calendars once more and check out the complete list of the FOX finale and premiere dates below.
FOX Spring Finale Dates:
FRIDAY, APRIL 4
9 p.m. - 'Raising Hope' (One-Hour Series Finale)
MONDAY, APRIL 28
9 p.m. - 'The Following'
TUESDAY, MAY 6
9 p.m. - 'New Girl'
9:30 p.m. - 'The Mindy Project'
MONDAY, MAY 12
8 p.m. - 'Bones'
TUESDAY, MAY 13
8 p.m. - 'Glee'
THURSDAY, MAY 15
9:30 p.m. - 'Surviving Jack'
SUNDAY, MAY 18
7 p.m. - 'Bob's Burgers'
7:30 p.m. - 'American Dad'
8 p.m. - 'The Simpsons'
8:30 p.m. - 'Family Guy'
TUESDAY, MAY 20
8 p.m. - 'American Idol' (Season Finale, Part 1)
WEDNESDAY, MAY 21
8 p.m. - 'American Idol' (Season Finale, Part 2)
SUNDAY, JUNE 8
9 p.m. - 'Cosmos'
FOX Summer Premiere Dates:
THURSDAY, MARCH 27
9:30 p.m. - 'Surviving Jack' (Series Premiere)
TUESDAY, APRIL 1
9 p.m. - 'The Mindy Project' (One-Hour Spring Premiere)
FRIDAY, APRIL 11
9 p.m. - 'Kitchen Nightmares' (Season Premiere)
MONDAY, MAY 5
8 p.m. - '24: Live Another Day' (Two-Hour Series Premiere)
MONDAY, MAY 12
9 p.m. - '24: Live Another Day' (Time Period Premiere)
TUESDAY, MAY 13
9 p.m. - 'Riot' (Series Premiere)
MONDAY, MAY 19
8 p.m. - 'Masterchef' (Season Premiere)
THURSDAY, MAY 22
9 p.m. - 'Gang Related' (Series Premiere)
SATURDAY, MAY 24
7 p.m. ET (Live) - 'FOX Sports Saturday: Baseball Night in America'
TUESDAY, MAY 27
8 p.m. - 'I Wanna Marry "Harry"' (Series Premiere)
WEDNESDAY, MAY 28
8 p.m. - 'So You Think You Can Dance' (Season Premiere)
MONDAY, JULY 21
9 p.m. - 'Hotel Hell' (Season Premiere)