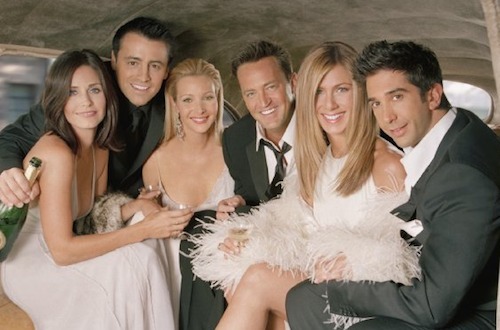 I don't know if you know that we know this, but today marks the 10-year anniversary of the 'Friends' series finale, which — if you're anything like me — involved a lot of shrieking, laughter, and excessive amounts of crying. (DID SHE GET OFF THE PLANE?!?!)
But even for those slightly less crazy fans, it still served as a pretty big moment in TV history. And even after all this time, it's hard to believe a decade has passed. (Just think, Emma would be 12 years old and the twins would be 10!)
Yes, for 10 seasons this show provided us with six best friends who were just as there for us as we were for them. And what better way to celebrate this series than by taking a little trip down memory lane. From Thanksgiving confessions to epic proposals, here are just a few of our favorite moments that made 'Friends' our lobster. (Clap, clap, clap, clap!)
Could we BE anymore nostalgic?
The One Where Ross and Rachel Have Their First Kiss
Let's start things off with one of the classics. While many shows nowadays are quick to rush into character lip-locks, this one kept audiences waiting for well over a year. And boy was it worth the wait. Though the scene starts off as a fight, as soon as Rachel opens those Central Perk doors and the music starts to build, you just know TV magic is about to happen. Watching it even now, all these years later, still gives me chills.
The One With All the Thanksgiving Confessions
Ross smoked pot in college and got another divorce. Monica and Chandler are living together. Rachel wasn't supposed to put beef in the trifle. Hurricane Gloria didn't break the porch swing, Monica did. All was revealed to Jack and Judy Geller in this hilarious Thanksgiving scene, which gave us, as an audience, much to be thankful for.
RELATED NEWS: Facts From a TV Junkie: 'Friends'
The One With the Number Seven
Hoping to better please his girlfriend Kathy in the bedroom, Chandler enlists the help of Monica and Rachel for some advice. Little did he know the kind of lesson he was about to receive as Monica recounted a woman's seven erogenous zones, which reached a rather…well…climatic conclusion. It's a scene that reminds guys — hey, women need attention too. Sometimes all it takes is a little math.
The One With the Lightning Round
Not only was this scene so much fun to watch, it was also a great way to learn new background information about the characters — like what Monica's nickname was when she was a field hockey goalie. Too bad we still have no idea what the heck Chandler Bing's job is. And unfortunately, neither did Monica and Rachel, giving them no choice but to hand over the apartment. Yes, the Lightning Round offered up tons of hilarity and proved that this show was at its best when the gang (or at least most of the gang) was together.
The One With the Routine
Don't pretend you never reenacted Ross and Monica's epic dance routine at some point with your friends. With dance moves like these, you were guaranteed to be the talk of the town. After all, they did get an honorable mention in the Brother-Sister dance category.
The One With the Prom Video
'Friends' flashbacks are always a win-win situation. Between Fat Monica, Rachel's old nose, and Ross' mustache, fans are pretty much guaranteed to be rolling around on the floor by scene's end. However, as the gang watches an old video of Monica and Rachel's prom, they discover something about Ross that finally allows him to get the girl of his dreams. From this moment on, there was no doubt Ross and Rachel were meant to be. He's her Lobster, after all.
The One Where Everybody Finds Out
"They don't know that we know that they know!" It's a battle of wits (and Phoebe's bra) as the secret of Monica and Chandler's romance becomes public knowledge. It's hard to pinpoint an exact favorite scene since the entire episode is absolutely brilliant. However, Phoebe's hilarious attempt to seduce Chandler only to have him proclaim his true feelings for Monica has to be right up there. It marks a significant turning point in their relationship. And the rest, as they say, is history.
RELATED NEWS: What Your Favorite 'Friends' Character Says About You
The One Where Joey Is on 'Pyramid'
"PAPER…SNOW…A GHOST!" It just doesn't get much better than this.
The One With the Proposal
Just when you think their relationship has taken a turn for the worst, Chandler opens the apartment door to find Monica surrounded by candles waiting to propose to him. It's such an amazing and emotional moment on the series. Just try not to get choked up. We dare you.
The One Where She Got Off the Plane
After years and years of wondering if these two were ever going to get back together, fans were finally given an answer during the show's season finale, guaranteed to give you all the feels. No more breaks for these guys. "Did she get off the plane?" Of course she did.