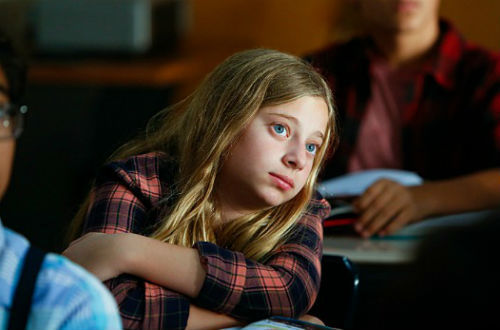 Growing up is hard to do, period. But throw in a raunchy teacher, who's just as, if not more, immature than her students, and, yeah, growing up pretty much sucks. Such is the case of young Lily, played by Sara Rodier, in CBS' new sitcom, 'Bad Teacher.'
RELATED NEWS: Review: 'Bad Teacher' Offers the Perfect Blend of Heart and Humor
Based on the raunchy Cameron Diaz flick from 2011, the TV adaptation follows Meredith (Ari Graynor), a sexy, foul-mouthed divorcée who becomes a teacher to find her next husband. Rodier's Lily is one of Meredith's students, with whom she also shares a unique bond. 
We chatted with Rodier about school, the cast and what's next for Lily and Meredith. 
TVRage: What do you like about playing Lily?
Sara Rodier: I like how she is really confident with herself. She's a great person. She's not mean. And the audience will love her because she's such a great character.
TVRage: Are there any similarities between you?
Rodier: I wouldn't say we are completely similar.  We have gone through similar issues. The audience saw in the pilot how she was being bullied and stuff. I have gone through some of that and maybe other kids have as well. So, not just me, but other kids can relate to that.
TVRage: What do you love most about working on 'Bad Teacher'?
Rodier: The cast and the crew are really fun to work with. We have a really great chemistry, all of us. And it's a lot of fun going to that everyday and hanging out with them.
TVRage: Have you seen the movie? (I think I know the answer to that question)
Rodier: No. Is that what you thought?
TVRage: Yeah, just because it's sort of raunchy.
Rodier: Yeah. My parents don't want me to see it. But I want to see it. I'll see it eventually.
TVRage: Since 'Bad Teacher' is based on a film, how does that factor into the show?
Rodier: I know the movie was a big hit. All of the people who loved that movie are probably watching the show. And those who haven't seen it are watching the show and then they'll want to see the movie. But even if it wasn't a movie, I think the show would still do great and people would still love it.
TVRage: Are you currently being schooled?
Rodier: I am doing independent studies through Beverly Hills High School that can accommodate students who are acting.
TVRage: What would you do if Meredith was your real-life teacher?
Rodier: I don't think there are any teachers like that, so that's what makes the show so great. It gives a sort of new idea that's cool. But if I had a teacher like that, it would be an easier way to get through school. It would be easier to get through class.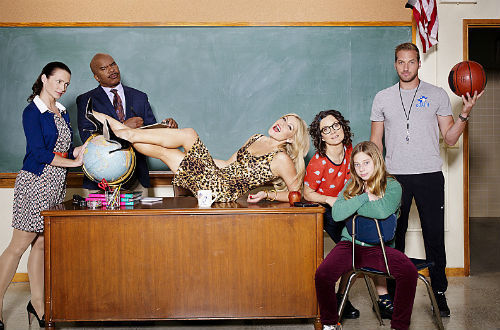 TVRage: Of the cast, who is the most unlike their character?
Rodier: I think all of the cast has similarities, but most of the cast have differences from their characters. Sara Gilbert's Irene is really not like her.
TVRage: Who is most like their character?
Rodier: Ryan Hansen is most like his character. Ryan can do athletic things. He can climb ropes and he can do back flips. He does back flips on set. He kinda has that athleticism, and he's really nice in person like he is on the show.
TVRage: Can you tell us a little bit about what's coming up for Lily?
Rodier: Well, I don't want to give anything away, but you'll see how Meredith's relationship with Lily blossoms and I think they have a really great chemistry together and something the audience will love. Lily benefits Meredith and Meredith benefits from Lily. They pretty much learn from each other. Lily brings out the soft spot in her.
TVRage: What are you watching on TV right now?
Rodier: I watch 'Pretty Little Liars,' 'The 100' and 'Once Upon a Time.'
RELATED NEWS: The Goldbergs' EXCLUSIVE: Hayley Orrantia, Troy Gentile Chat 'Star Wars' Episode
TVRage: Who's your favorite actor or actress?
Rodier: I have a few. I like Jennifer Lawrence. I like Lucy Hale, Ian Harding and Jennifer Morrison. I like how they take on their characters very nicely, and everything they do is really great and they have their funny scenes and dramatic scenes and they make it work. They're really good at what they do.
TVRage: School's almost out for summer. What are your plans?
Rodier: I'll go away to sleep-away camp, have my birthday and I might go on a vacation. I'm going to relax.
'Bad Teacher' airs Thursdays on CBS at 9:30/8:30c