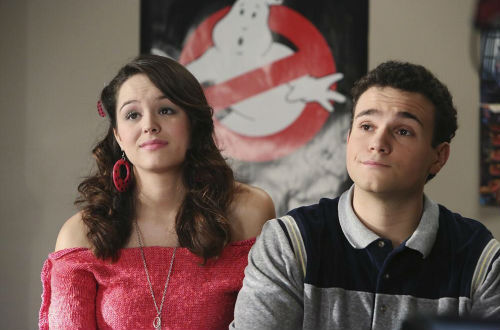 One of ABC's newest comedies is responsible for transporting viewers back in time, where we get to relive some of the greatest moments of the '80s. That comedy is 'The Goldbergs,' which airs Tuesday nights.
Tonight, fans will tune in to, yet again, another hilarious episode celebrating a memorable time -- 'Star Wars.' Just the other day, the world united on May 4 aka "May the Fourth Be With You," so this is the perfect time for such an episode.
RELATED NEWS: ABC Announces Season Finale Dates for 'Once Upon a Time,' 'Scandal' & More
In addition to reminiscing about 'Star Wars,' 'The Goonies,' Hypercolor shirts (basically, this half-hour comedy is a nostalgia time machine), 'The Goldbergs' brings one crazy, lovable and hilarious family into family rooms every Tuesday night.
Well, in tonight's upcoming episode titled "A Wrestler Named Goldberg," the show continues to do just that. Not only do Murray and Pops convince Barry to lie about joining the wrestling team (can you imagine what's going to happen when Beverly finds out?), but Adam persuades Erica to take him to the premiere of 'Return of the Jedi.' However, Erica decides to flake and chooses her friends over her brother.
You'll have to watch to see how it all works out. But, before then, let's chat series stars Hayley Orrantia and Troy Gentile, who play sister and brother (Erica and Barry), respectively, on the small screen.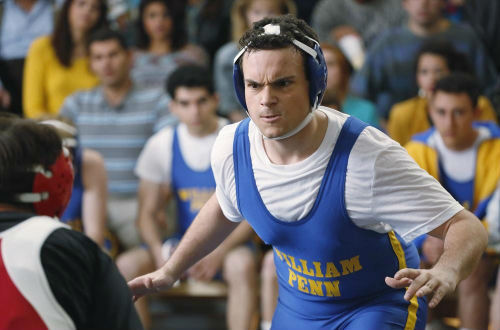 Last Week, TVRage caught up with Orrantia and Gentile, where we chatted about the upcoming episode, playing characters based on real people and "living" in the 1980s.
Neither of these two grew up in the '80s, so what's it like starring in a series taking place during that time period? The two agree that they are learning episode by episode about certain fads, but one thing that truly helps them embrace the beloved time period is their costumes. As Gentile said, "The wardrobe itself -- we have an incredible wardrobe. She [the wardrobe designer] does an amazing job day in and day out, and episode in and episode out."
Despite not knowing the '80s by heart, this doesn't stop the fake brother and sister from having fun on set, especially with tonight's episode.
Once again, we see Barry in his typical fashion aka yelling, screaming and freaking out. Gentile assures he's nothing like Barry, but he does yell -- at times. "No, but I do yell. Like, we all yell, but, no, not even close to that extent. When I was that age, I was pretty highly emotional, but, no, not even close to that."
Just like Erica, Orrantia also embodies an inner geek, which we've seen in previous episodes and will also see tonight. (Spoiler: Erica loves 'Star Wars'!) She admitted to TVRage she is geeky "in some ways," like when it comes to playing video games. One of her favorites? 'Call of Duty.'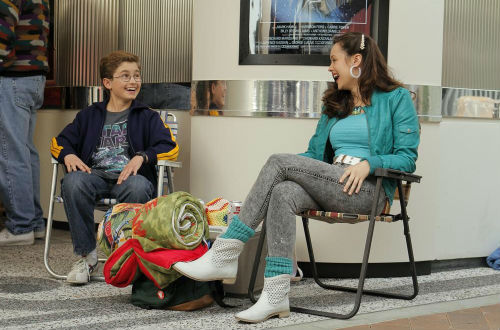 As with every episode, fans will surely have a favorite moment from tonight's new episode, but Orrantia and Gentile both enjoyed the scenes with Erica and Adam waiting in line for 'Star Wars.' "It's a really feel good episode. It's an emotional rollercoaster episode. It's great," Gentile noted. Orrantia agreed, but she also loved the people she got to work with that week, including Thomas Lennon ('Reno 911!'), who stars as a superfan of the 'Star Wars' franchise.
RELATED NEWS: Jimmy Kimmel Signs Two-Year Contract Extension With ABC
Again, this comedy presents beloved family moments, and it doesn't get better than when Barry wants to be a wrestler and we get to enjoy some 'Star Wars' references.
As a fun side note: funnily enough, Orrantia's character is the only not based on a real person from creator Adam Goldberg's family. In real life, Goldberg has three brothers, so why incorporate a sister?
"I think he just felt like having a girl in the family to make more storylines and end different storylines, [rather than] with three boys," Orrantia revealed. "That way you get to have all different aspects of family -- the brothers side and the brother, sister side. I think it worked out a lot better in a way. And, I'm happy he did it."
So are we. Again, be sure to watch tonight's episode airing at 9/8c on ABC.