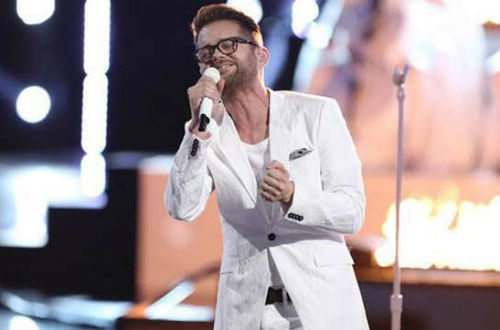 'The Voice' crowned its latest crooner last night. Amid lots of pomp and circumstance (the 2-hour finale was basically a concert, with only the last five minutes reserved for the big moment) and a little bit of controversy (damn you, iTunes!), the Season 6 winner was -- finally! -- announced. 
RELATED NEWS: My Guilty Pleasure: 'The Voice'
And the winner is...Josh Kaufman (and Team Usher)!
The affable 38-year-old father of three got the sash and crown treatment, leaving Jake Worthington (Team Blake) and Christina Grimmie (Team Adam) in his wake. His victory marks the first time that neither bros Blake Shelton nor Adam Levine has won a season of 'The Voice.'
As a long-time viewer of 'The Voice' (OK, I only started watching last season, but I'm already so invested in this show), I'm absolutely thrilled with the result, if not a little surprised. Kaufman, who bounced from Levine's team to Usher's during the show's Knockout rounds, had me at first note with his soulful rendition of George Michael's "One More Try" during his blind audition. But, up until last week, it looked like Grimmie -- the New Jersey sensation who gave Drake and Lil Wayne a run for their money with her hip renderings of their top songs -- was the one to beat. 
RELATED NEWS: Gwen Stefani in Talks to Join 'The Voice'
In the end, despite a glitch with Apple's iTunes that kept Kaufman's single out of the most downloaded top 10, it was the consistent soulman from Indianapolis who became the definitive voice of the season. (Don't cry for Grimmie, though. Levine said he's going to sign her with his label anyway). 
If you missed the 120 minutes of music (OneRepublic, Ed Sheeran, Coldplay, Tim McGraw, Alabama and more showed up) and drama (iTunes!) and nostalgia (the top 12 contestants all showed up) last night, here's really what you need to know (besides Kaufman winning, of course). 
BEST REUNION PERFORMANCE: Departed dudes (Delvin Choice, Jake Barker, Morgan Wallen, Patrick Thomson & Stevie Jo) came back to sing Hall & Oates' "She's Gone," and they nailed it. It was the kind of awesome performance where you thought, "You're all good! You all deserve to win! You're all 'The Voice'!" Yes, it was that good. 
LAMEST PERFORMANCE: Robin Thicke performing "Get Her Back"...again! OK, the performance itself wasn't bad, and Kaufman, who was dueting with Thicke, definitely matched the R&B singer, but it just seems that Thicke is trying a little too hard (and a little too publicly) to get back his wife, Paula Patton. Maybe take it from the aforementioned performance: she's gone?
CUTEST MOMENT: Worthington, the teenage teddy bear from Texas, promised his new Kia (the top three finalist all nabbed one) to his grandmother, who helped pay for his first car. Aww!
CUTEST MOMENT #2: When Levine, Shelton, Usher and Shakira all had a great big group hug. Usher and Shakira are not returning next season, and they will definitely be missed. (Gwen Stefani and Pharrell will be filling in for the duo).
"NAILED IT!" MOMENT: 'The Voice: Confessional' filler returned, with Levine, Shelton, Shakira and Usher all chiding each other in the most loving way possible. Usher was teased about his cliched philosophies ("it's the journey, not the destination"), Shakira got some heat for being a "hot Colombian tamale" and Levine was teased for his "favorite" songs. Dude has a lot of favorite songs -- over 600!? He doesn't seem to discriminate, except maybe when it comes to Shelton, who said: "I don't think he ever said he liked one of my songs." But you know they still love each other! 
Season 7 of 'The Voice' returns in the fall.