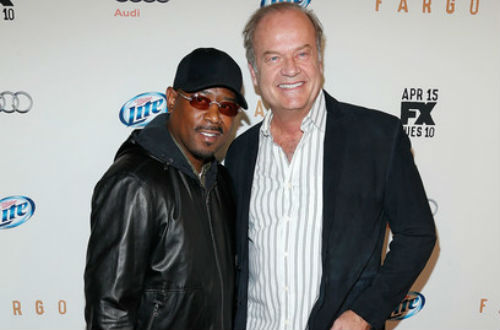 In addition to all of the other news we've been reporting, here are a few entertainment and TV headlines you might have missed:
-Kelsey Grammer and Martin Lawrence's FX comedy, 'Partners,' will premiere Monday, Aug. 4. It follows Grammer and Lawrence as they play two Chicago lawyers from very different backgrounds. FX will air two back-to-back episodes of the comedy in the 9 p.m. slot for five straight weeks. Also beginning Aug. 4, 'Anger Management' will move to Mondays and will air back-to-back episode in the 10 p.m. hour. If 'Partners' meets the required ratings over its first 10-episode run, it will receive an additional 90-episode order.
RELATED NEWS: FX and FXX Set Summer Premiere Dates for 'The Strain,' 'Wilfred' & More
-In other premiere date news, Lifetime's 'The Lottery' is set to debut Sunday, July 20 at 10/9c. Starring Marley Shelton, the series is set within a dystopian future driven by a global fertility crisis and follows a world looking at impending extinction due to women mysteriously not being able to have children.
-Netflix is reportedly in the midst of welcoming a royal drama from Oscar noms Peter Morgan ('The Queen') and Stephen Daldry ('The Hours'). Titled 'The Crown,' and inspired by the play 'The Audience,' it follows "the weekly audiences given by Queen Elizabeth II to prime ministers that date back from her accession in 1952 to the present day."
-HBO's Bessie Smith biopic is welcoming Oscar nominee Mo'Nique and 'Scandal's Khandi Alexander, Deadline reports. Co-starring opposite Queen Latifah (Bessie Smith) in 'Bessie,' Mo'Nique will play Ma Rainey, one of the first professional blue singers dubbed "The Mother of the Blues," while Alexander will play Bessie's older sister, Viola.
RELATED NEWS: 'Sleepy Hollow' Casts 'West Wing' Alum as Benjamin Franklin
-FOX's 'Sleepy Hollow' is going to be seeing more of the Headless Horseman as Neil Jackson will "heavily recur" on the hit series. First seen in Episode 7 of Season 1, Jackson will reprise his role as Abraham Von Brunt aka the Headless Horseman.
-ABC Family's pilot 'Recovery Road' has added Caroline Sunshine ('Shake It Up') as a series regular opposite Samantha Logan. The show follows Logan's character (Maddie) as she deals with addiction. As for Sunshine, she'll play Emily Owenby, Maddie's best friend concerned about her partying.