The 2014 Emmy nominations were announced yesterday morning, and Lizzy Caplan, the sexy star of Showtime's hit show Masters of Sex, was among the nominees for Best Actress in a Drama Series. Allison Janney and Beau Bridges were also nominated for their guest appearances on the Showtime series.
Based on a true story, the TV series Masters of Sex follows the professional and romantic relationship of Bill Masters and Virginia Johnson, a pair of sex researchers employed at a well established university. The series is controversial and risque even by 2014 standards, but becomes even more shocking when you consider that all of this takes place in the much more conservative and uptight period of the 1950s.
Is Masters of Sex really based on a true story? Check out this infographic!
How much of Masters of Sex really is based on a true story? Find out for yourself by consulting this "fact or fiction" Masters of Sex infographic. Sure, certain plot twists and character developments have been added in for dramatic effect, but we think Lizzy Caplan got it right when she said, "The things that are the most shocking in on our show are true."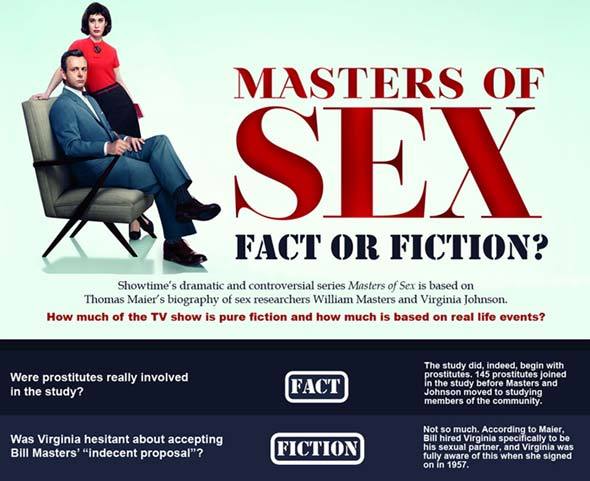 View the full infographic here.
The second season of Masters of Sex airs this Sunday at 10PM on Showtime.